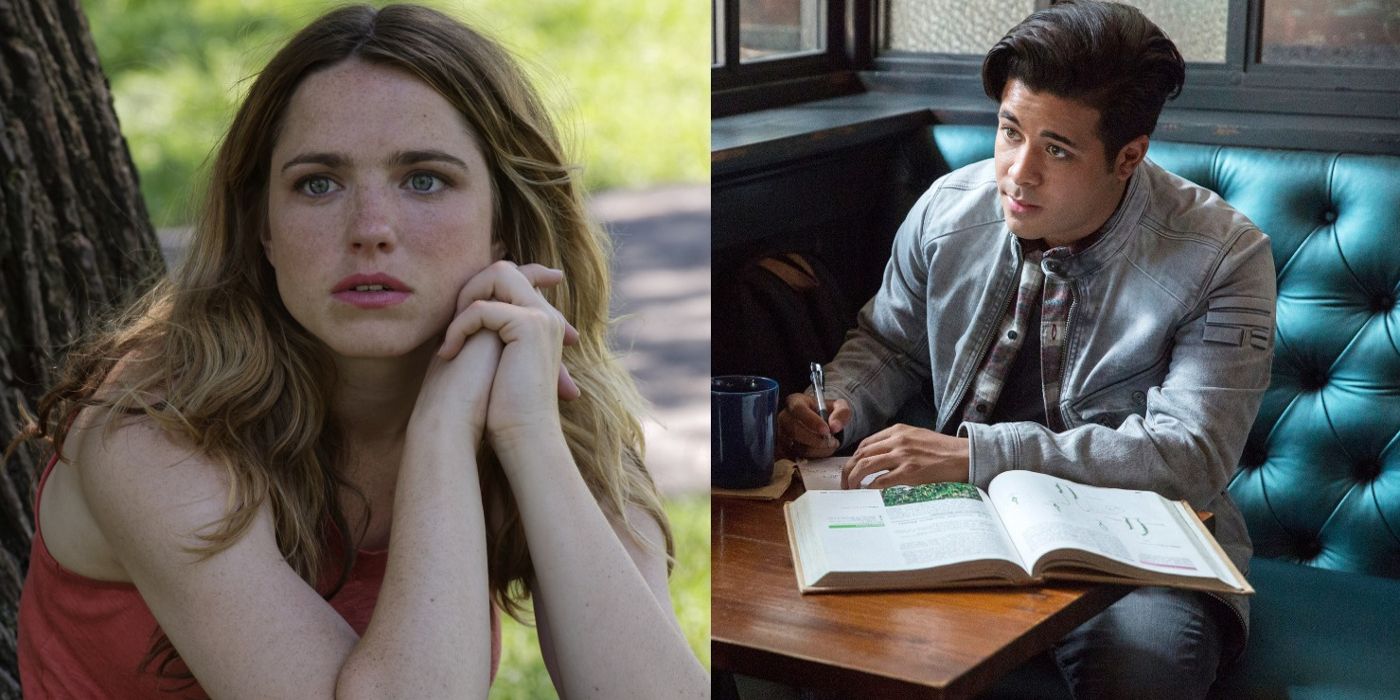 This article contains videos that may depict murder and profane references. Viewers' discretion is advised
Twelve years after terrifying viewers with the underrated horror yarn The Last Exorcism, German filmmaker Daniel Stamm has gone back to the wicked well with Prey For The Devil; the new religious horror movie hitting theaters on October 28, 2022. The story concerns Sister Ann (Jacqueline Byers), an idealistic nun who attempts to cleanse a little girl's soul from demonic possession in a Catholic exorcism school.
Aside from a household name or two, Prey for the Devil boasts a stellar international ensemble that most will have recognized for their past film and TV projects. Many have even firmly planted roots in the horror genre.
Jacqueline Byers – Salvation (2017-2018)
Available To Stream On Paramount Plus
Canadian actress Jacqueline Byers plays Sister Ann in the new demonic possession movie, a devout Catholic nun who believes she has a duty to become the first-known female exorcist on record. Driven by her mother's experience with demonic possession, Sister Ann does all she can to help deliver young Natalie (Posy Taylor) from evil, whom she believes is possessed by the same evil entity.
With 15 acting credits to date, most will recognize Byers from her leading role on the sci-fi series Salvation, in which she played Jillian Hayes for 26 episodes. The show imagines an asteroid headed toward Earth, with Jillian giving a much different performance as a Boston-based science fiction scribe, who is elected to pick 160 survivors to leave the planet should the asteroid make an impact.
Virginia Madsen – Candyman (1992)
Available To Stream On fuboTV
Virginia Madsen portrays Dr. Peters, one of the leading psychiatric physicians at the Catholic school for the Rite of Exorcism that gives Sister Ann encouraging advice. While Madsen earned her lone Oscar nomination as Maya in the acclaimed drama Sideways, most will never forget her indelible turn as Helen Lyle in the original candy man.
Helen Lyle is a student in Chicago, fascinated with local lore, myths, and spooky legends, ultimately uncovering the hook-handed murderer Candyman (a phantom-like slasher who appears by stating his name three times while looking in a mirror). With 30 years of on-screen gravitas gained, Madsen plays a smarter, more experienced, and authoritative figure in Prey for the Devil than she did as a naive student in candy man.
Colin Salmon – Krypton (2018-2019)
Available To Stream CW Seed
Colin Salmon plays Father Quinn in the film, one of the leading Priests at the exorcism school who sees great potential in Sister Ann and decides to train her to become the first female exorcist on record. With 120 acting credits over a 30-year career, Salmon has appeared in Mortal Engines, Arrows, and most significantly, Krypton.
As General Zod/General Dru-Zod in Krypton, Salmon gives a commandingly wicked turn as the new ruler of Krypton born to Seg-El and Lyta-Zod. While not a superhuman alien in the movie, Salmon powerfully presides over the exorcism school as Father Quinn (just as Zod ruled over his kingdom during 18 episodes of the popular SyFy series).
Ben Cross – Dark Shadows (1991)
No Streaming Information Available
English actor Ben Cross portrays Cardinal Matthews in Prey for the Devil, one of the Pope's closest confidants, who tries to keep Natalie's possession as secret as possible. Unfortunately, Cross passed away in 2020 after a battle with cancer.
With over 100 credits spanning a 40-year career, Cross' most prominent recent role came as Mr. Rabbit in banshee and Banshee Origins. However, it's hard to forget Cross' performance as Barnabas Collins, the campy lead vampire in Dark Shadows revival in 1991. More of a fish-out-of-water comedy than outright horror yarn, Cross' role as Barnabas is far sillier and more absurd than his gravid turn in Prey For The Devil.
Christian Navarro – 13 Reasons Why (2017-2020)
Available To Stream On Netflix
Christian Navarro plays Father Dante in the film, a fellow student at the exorcism school, who joins Sister Ann at Natalie's bedside to help her find spiritual ablution following her malevolent demonic possession. Some may have seen Navarro as Eduardo in Bushwick or as Kurt in Can You Forgive Mebut most will recall his starring role as Tony Padilla on the Netflix teen drama 13 Reasons Why.
In the Netflix hit, Navarro played Tony for 49 episodes, bearing a huge emotional weight when Hannah gives him the audio tapes before her death and implores him to share them with their classmates. Tony and Father Dante don't have much in common beyond doing their best to help those around them in extremely trying times.
Debora Zhecheva – All Inclusive (2020-Present)
No Streaming Information Available
Bulgarian child actor Debora Zhecheva plays the young version of Sister Ann in flashbacks, which give insight into her mother's demonic possession years prior. While Zhecheva has appeared in small movies Pelican Blood and Child of wisdom, her 20-episode arc (and counting) on ​​the Bulgarian TV show All Inclusive is where most will recognize her for.
All Inclusive follows a pair of families from Sofia, Bulgaria, who meet on vacation on the Black Sea coast, with Zhecheva playing the much sunnier and more pleasant Stefani, a quirky youngster with a much healthier childhood than Sister Ann.
Lisa Palfrey – Sex Education (2019-2021)
Available To Stream On Netflix
Welsh actor Lisa Palfrey plays Sister Euphemia in the chilling demonic-possession movie, a staid senior clergywoman, who assists Sister Ann in cleansing Natalie's soul. With most of her acting credits coming on the small screen, Palfrey just completed a 13-episode arc on Cobra to go with her 3-year-run on the Netflix hit series Sex Education.
In Sex Education, Palfrey plays Cynthia, the owner of the mobile home park that Maeve lives in. A much funnier character who isn't afraid to scream out "Jeffrey, you sex god" while enjoying a daytime tryst, Sister Euphemia would be downright apoplectic if she witnessed what Cynthia gets up to.
Nicholas Ralph – All Creatures Great And Small (2020-2022)
Available To Stream On PBS Masterpiece Amazon Channel
When Sister Ann and Father Dante can't quite exorcise the demon from Natalie's soul, they seek help from Father Raymond in the anticipated Halloween-time horror movie, played by South African actor Nicholas Ralph, to get the job done. A relative newcomer with just three screen credits to date, Ralph's most substantial role includes playing James Herriot on 20 episodes of the Channel 5/PBS series All Creatures Great And Small.
The feel-good drama concerns a trio of veterinary surgeons in 1930s and 1940s Yorkshire, with Ralph giving a delightfully charming turn as Dr. Herriot. Despite the division of religion versus science, Herriot may be cheerier than Father Raymond, but both are willing to help the less fortunate.
Velizar Binev – Hitman (2007)
Available To Stream On DIRECTV
Things take a scary turn in Prey For The Devil when Father Bernhard suddenly becomes possessed and tells Sister Ann he's been waiting for her to arrive. Played by Velizar Binev, it's not the first time with Bulgarian actor has played a clergyman. In fact, he played The Priest in the 2007 action film Hitman.
Hitman follows Agent 47, an orphaned child groomed to be a professional assassin as an adult. One his targets is The Priest, an innocent bystander in the wrong place at the right time. Similar to Prey For The Devil, Binev plays another vulnerable clergyman who is targeted by a deadly force.
Koyna Ruseva – Undercover (2011-2013)
No Streaming Information Available
In Prey For The Devil, Sister Ann eventually discovers that the same demon that possessed her mother as a child is the same tormenting Natalie. Ann's mother is portrayed by Bulgarian actor Koyna Ruseva, who most will recognize from the Bulgarian TV show Undercover.
Inspired by Martin Scorsese's The Departed, Undercover follows moles in the mafia and law enforcement agency who end up on a collision course. In 23 episodes, Ruseva stands out as Boyana Vasileva, a brilliant legal mind who couldn't be further from the demonically-possessed, abusive mother in Prey for the Devil.
NEXT: 10 Best Hidden Gem Horror Movies From 2022 To Watch This Halloween Season