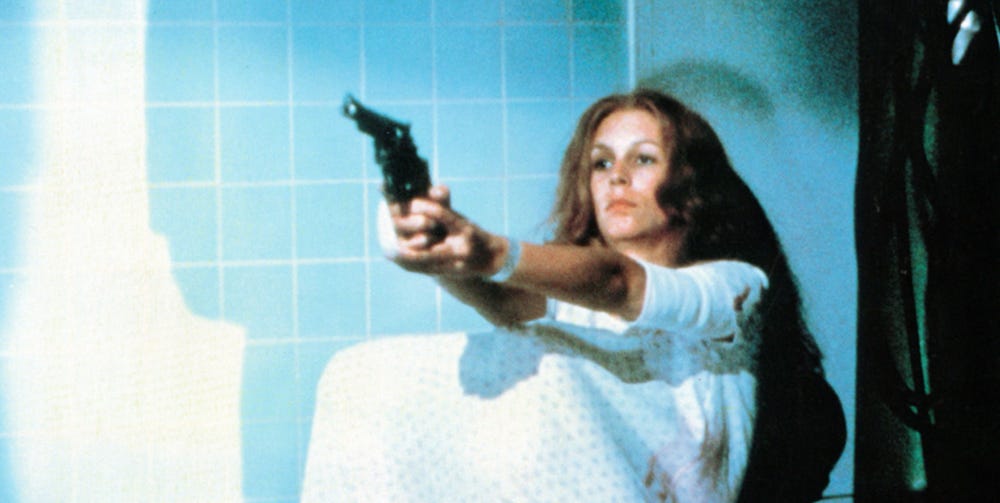 In the age of remakes, reboots, and reimaginings, many horror franchises continue to evolve in 2022. But if you're a fan of low-budget scares, or CGI-free gore, then it's time to revisit some of the best horror movies made in the 1980s. From the introduction of killer icons like Freddy Krueger and Chucky, to fun sequels featuring the likes of Michael Myers and Norman Bates, the '80s was truly a golden era for horror. Here, we round up some of the best '80s horror flicks, slashers, psychological thrillers, and gore-fests for your viewing terror.
Advertisement – Continue Reading Below
Before Annabelle took over the haunted/possessed/demonic doll scene, Charles Lee Ray was known as the ultimate killer doll, thanks to 1988's Child's Play. In the iconic movie, Andy begs his mom to buy him a Good Guy doll. Short on cash, she manages to snag one from some random guy in an alley for a discount price. Unfortunately, the doll she takes home contains the soul of a serial killer known as the Lakeshore Strangler. Many fun sequels followed, and now Chucky has his own TV series, so it's the perfect time to see where it all began.
WATCH NOW
Although many horror movies start with a family moving into a new home, 1982's Poltergeist stands out from the crowd. Directed by The Texas Chain Saw Massacre's Tobe Hooper, Poltergeist was lauded for its phenomenal special effects that helped bring a myriad of demonic spirits to life. It was remade in 2015, but nothing can quite live up to the horror of the original, which was co-written by Steven Spielberg.
WATCH NOW
This classic '80s slasher focuses on a group of teenagers that decide to have a debaucherous party inside the mall once it's closed. What they don't count on is being stalked and killed by three malfunctioning security robots that are meant to be protecting the stores. While shopping mall is definitely one of the cheesier '80s slashers, it's still a super fun watch. By taking place in a mall, rather than a haunted house or a creepy camp ground in the woods, the film manages to stand out from its peers almost four decades later.
WATCH NOW
After her family is killed in an accident, Angela is sent away to Camp Arawak. However, Angela's fellow campers start meeting gory ends at the hands of a mysterious murderer. Any character with less than honorable intentions is especially at risk of being killed. The movie is still praised for its surprising twist, and thanks to the financial success it had at the box office, Sleepaway Camp spawned a plethora of sequels.
WATCH NOW
Jack Nicholson stars as Jack Torrance, a struggling writer who takes a job as the winter caretaker of the Overlook Hotel in Colorado. Jack moves his wife Wendy (Shelley Duvall) and their son Danny into the mysterious property. However, it's not long before Danny starts having troubling visions, which get progressively worse. As Jack struggles with writer's block, he discovers that the Overlook Hotel holds some terrifying secrets, and it's not long before he starts losing his mind.
WATCH NOW
6
A Nightmare on Elm Street (1984)
Wes Craven's A Nightmare on Elm Street made Freddy Krueger (Robert Englund) a household name. In the franchise's first installment, a group of teenagers start having their dreams terrorized by Freddy, a former child murderer turned nightmare purveyor. Thanks to some stellar special effects, A Nightmare on Elm Street is an exceedingly fun watch, and Englund's first turn as Krueger is nothing short of iconic. If you have trouble sleeping, this probably isn't the film for you.
WATCH NOW
The '80s brought us some of the horror genre's most iconic serial killers. Joining Freddy Krueger in that list is Jason Voorhees, and although he's not the star of the franchise's first outing, Friday the 13th laid the groundwork for the hockey-masking wearing savant. Camp Crystal Lake has been closed for two decades following a series of unsolved deaths. Set to reopen, a group of camp counselors arrive for the summer season, ignoring the so-called "death curse" that the locals talk about. You can guess what happens next.
WATCH NOW
8
Killer Klowns from Outer Space (1988)
As '80s horror movies go, Killer Klowns from Outer Space is seriously fun. A gang of strange looking alien-clowns start terrorizing a small town, but the cops think the circus freaks are just part of an elaborate prank. While these clowns look kinda cute on the outside, they're intent on harvesting and eating humans. This candy floss-covered horror flick has gained cult status, and the Killer Klowns are now regulars at Universal's Halloween Horror Nights.
WATCH NOW
John Carpenter's Halloween remains one of the most important horror movies in recent memory. A slew of sequels have followed, and the current timeline ignores Halloween II altogether. However, Halloween's first sequel is a gruesome slasher that's a must for anyone revisiting '80s horror. Picking up immediately following the events of Halloween, Laurie Strode (Jamie Lee Curtis) finds herself in a hospital. However, it's not the safest place to be, as Michael Myers stalks and kills the entire staff in his search for his eternal nemesis.
WATCH NOW
Stephen King's Pet Sematary has been haunting audiences for decades, and with good reason. In Mary Lambert's 1989 adaptation of the novel, the Creed family moves to Maine with their pet cat, Church. Their neighbor, Judd, shows them a derelict "pet sematary" behind their home, and it's not long before the family is drawn into a series of dangerous and supernatural events. From impossible resurrections to terrifying premonitions, Pet Sematary will keep you guessing right up until the end.
WATCH NOW
Sam Raimi's sequel to The Evil Dead is an unforgettable horror comedy that helped bring the franchise to a wider audience. Ash (Bruce Campbell) decides to take a vacation with his girlfriend to a remote cabin in the woods. What could possibly go wrong? In the abandoned property, Ash finds a tape recording made by the cabin's previous inhabitant, an archeologist who discovered the "Necronomicon Ex-Mortis," or the "Book of the Dead," during a dig. By playing the recording, Ash unleashes some horrifying demons who proceed to torture and possess him.
WATCH NOW
Clive Barker's 1987 movie is based on one of his own novellas, and introduces viewers to the terrifying character Pinhead (Doug Bradley). The series revolves around an unusual puzzle box, dubbed The Lament Configuration, which opens a portal to hell whenever it's solved. Sadomasochistic demonic creatures, known as Cenobites, are then able to cross over into our world, where they subject unlucky individuals to excruciating torture and death. A reimagining of the franchise is coming to Hulu.
Alfred Hitchcock's 1960 movie psychology remains an iconic piece of cinema that regularly tops "Best Of" lists. But you're probably less familiar with the Psycho sequels, which continues the story of Norman Bates and his beloved mother. In Psycho II, Anthony Perkins returns as Norman, returning to Bates Motel after 22 years in a mental institution. Despite having a pretty different vibe from the first film, this '80s slasher continues to find fans, and much of that is thanks to Perkins' unmatchable performance.
WATCH NOW
David Cronenberg is well known for his exquisite brand of body horror, and 1981's Scanners showcases his unique and often gruesome vision. In the movie, "scanners" are individuals who possess special powers, such as telekinesis and telepathy. However, when a private military company decides to harness the talents of scanners for their own gain, a group of rebels wage war. Expect exploding body parts.
WATCH NOW
If, like me, you were allowed to watch Gremlins as a kid, you might have also experienced nightmares about what happens when the cute and cuddly Gizmo is exposed to water, fed after midnight, or exposed to bright lights. Whether or not you consider Gremlins to be a horror film is your choice. All I know is, the shadows that tree branches cast across my bedroom wall really looked like the arms of those slimy gremlins Gizmo spawned, and I bet I'm not alone.
WATCH NOW
Writer Stephen King and director George A. Romero collaborated for this surprising and frantic horror anthology movie. 1982's creepshow features everything from meteor crashes to undead revenge stories to mysterious creatures and cockroach infestations. While not every story manages to be scary, each is entertaining and features masterful special effects from the master himself, Tom Savini. Two movie sequels and a fun TV series followed.
WATCH NOW
17
My Bloody Valentine (1981)
A Valentine's Day party turns into a blood-bath for a group of teens in this classic slasher. My Bloody Valentine takes place in a Canadian mining town haunted by a terrible accident. After a miner is trapped underground, and forced into cannibalism to survive, he threatens to continue killing unless the town suspends its annual Valentine's Day dance. 20 years later, the dance is back on, and the grisly murders start happening all over again. A remake starring Jensen Ackles was released in 2009.
WATCH NOW
18
An American Werewolf in London (1981)
David and Jack, two Americans backpacking across England, stop at a pub called the Slaughtered Lamb. Locals warn the pair to avoid walking on the moors, especially during the full moon. The duo doesn't listen, obviously, and they're attacked by a mysterious creature later that night. While Jack is killed, David survives the vicious attack, but starts to experience some changes. A sequel, An American Werewolf in Parisfollowed in 1997.
WATCH NOW
Before he played John Locke on Lost, Terry O'Quinn was a much more unsavory character in 1987's The Stepfather. O'Quinn plays a serial killer who's skilled at changing his identity, and after his recent killing spree, he's in search of the perfect family. However, he meets his match when he remarries a widow with a suspicious teenage daughter. Two sequels followed, and a remake starring Penn Badgley was released in 2009.
WATCH NOW
John Carpenter's The Fog co-stars scream queen Jamie Lee Curtis, and her real-life mother, Psycho's Janet Leigh. In the film, a ghost-filled fog covers a small coastal town, and its residents start to experience strange and supernatural events. Inhabitants are hunted by the ghosts of mariners who died in a shipwreck a century before, while discovering the unexpected truth about the history of their hometown.
WATCH NOW
Kurt Russell stars in this science-fiction-infused horror movie set in Antarctica. A group of researchers stumble upon an alien buried in the ice, that's also a dangerous parasite that can imitate humans. Unsure if one of the team might actually be "The Thing," the researchers face paranoia and distrust, as they come to the realization that they've been infiltrated by an extraterrestrial being and there's no going back.
WATCH NOW
Advertisement – Continue Reading Below