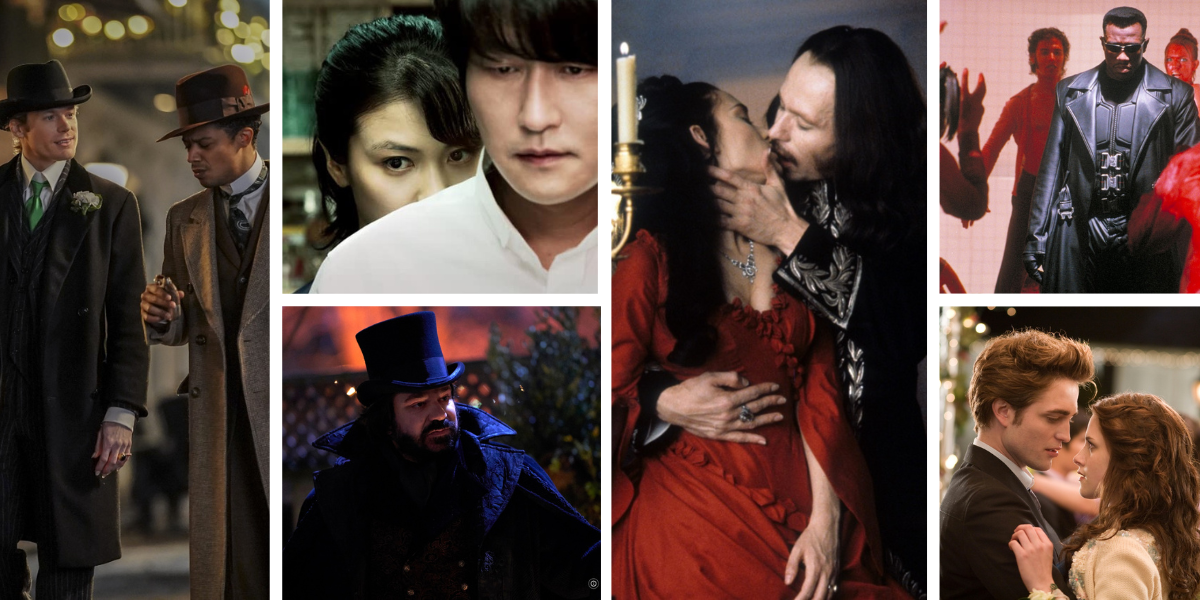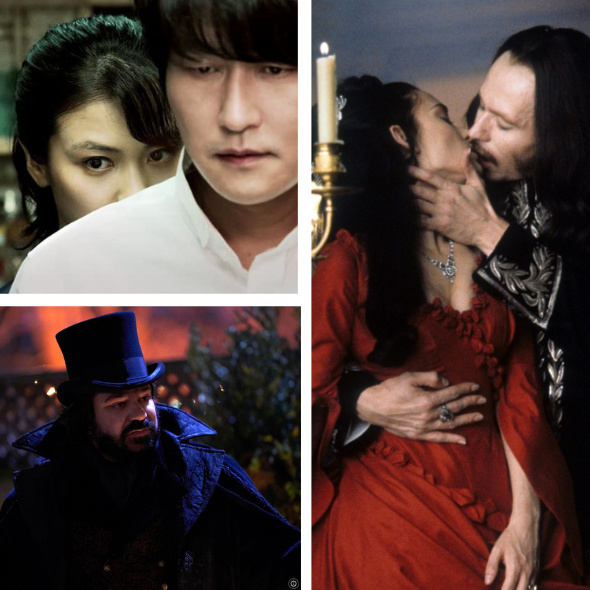 Courtesy
Hollywood has long enjoyed an on-again, off-again love affair with vampires. Many of us equate Peak Vampire with the late 2000s/early 2010s, when the Twilight franchise had teenagers lined up at the megaplex for midnight premieres. (I, of course, was one of them). But bloodsuckers have been drawing audiences since long before people knew the name Edward Cullen.
The monsters initially sank their fangs deep into Hollywood in the 1930s, upon the release of Dracula. Although the film wasn't Tinseltown's first vampire project, it was the first to reach a mainstream audience and achieve critical acclaim. Dracula's success inspired Universal to bring back the evil Count in five separate sequels and spin-offs in the years that followed—arguably spawning one of Hollywood's first franchise behemoths. Since then, the vampire craze has ebbed and flowed, with the Twilight years relishing a noticeable spike. But with two more tales hitting streaming services in recent months—Peacock's Vampire Academy and AMC's Interview With the Vampire—it's worth asking: Are vamps cool again? And a better follow-up: Have they ever not been cool?
It might be too early to tell if Hollywood is entering an "on-again" phase of its relationship with these dark denizens, but in the meantime there are plenty of ways to find out if the vampire trend is for you. Below, you'll find the best vampire movies and TV shows of the past century, whether you're looking for horror, romance, comedy or a bit of family-friendly fright.
Advertisement – Continue Reading Below
The very first modern vampire movie wasn't about Dracula, per se, but fans of the Bram Stoker novel will notice some striking similarities in Nosferatu. In fact, Stoker's widow, Florence, sued the German silent film for copyright infringement after its 1922 premiere, and (almost) every copy was destroyed. But various fragments of the film survived and, after a lengthy restoration process, Nosferatu is now one the most well-known vampire movies ever made. One hundred years later, the film's antagonist Graf Orlok is scheduled to stalk the screen again in an upcoming remake by Robert Eggers.
Watch Nosferatu
It's hard to separate Dracula from actor Bela Lugosi. Not only was he the first to portray the Count on the silver screen, but he also starred in the 1920s Broadway production and in a Spanish-language Dracula film. (In a very on-brand macabre move, Lugosi was buried in his vampire costume when he died in 1956.) The 1931 movie was so successful that it launched the first Hollywood vampire craze, with subsequent titles including Son of Dracula, House of Dracula, Horror of Dracula, Dracula's Daughter, and Abbott and Costello Meet Frankenstein.
Watch Dracula
While Frankenstein-esque Herman Munster is the face of this 1960s sitcom, this wife guy wouldn't be anywhere without his vampire love Lily. Sure, Lily and her Dracula-inspired father are more interested in being a typical American family than sucking blood, but they can never escape spooking the neighbors with their not-so-human ways. For more wacky antics, check out Rob Zombie's movie, also called The Munsters, which just premiered on Netflix.
Watch The Munsters
Before Johnny Depp dawned black eye shadow in Tim Burton's 2012 movie, Barnabus Collins was the star and resident vampire in the 1966 soap Dark Shadows. The Emmy-nominated show follows the wealthy Collins family and their dramatic run-ins with werewolves, zombies, witches, and—of course—vampires.
Watch Dark Shadows
A moody and melodramatic queer film, The Hunger is a slow burn perfect for watching on a rainy October evening. It stars Catherine Deneuve as the undead temptress Mariam, David Bowie as her deteriorating lover, and Susan Sarandon as a scientist who captures Mariam's eye.
Watch The Hunger
There's a lot to love about The Lost Boys: the rock-n-roll soundtrack, the motorcycles, and, of course, the vampires. The horror-comedy follows two brothers who move to a California beach town and quickly discover that sinister beings (albeit with incredible hair) are lurking within the community. It's a little goofy, but it's a whole lot of fun and one of the best vampire movies of the '80s.
Watch The Lost Boys
Vampire's Kiss might not be one of Nicolas Cage's most well-known performances, but it's definitely one of his most mesmerizing. The film follows hotshot executive Peter Loew (Cage) who begins to suspect that a romantic encounter has turned him into a creature of the night. Filled with Nosferatu impressions, cockroach eating, and the most impassioned performance of the ABCs you'll ever witness, Vampire's Kiss is a must-watch.
Watch Vampire's Kiss
Bram Stoker's Dracula (1992)
Francis Ford Coppola's Dracula adaptation is a star-studded affair: Winona Ryder, Keanu Reeves, and Anthony Hopkins come together in this hyper-stylized flick to fight the evil vampire, played by Gary Oldman. Coppola relies on practical effects and camera trickery to create an over-the-top bloody tale of reincarnation and lost love. Don't go in thinking this is a simple retelling of Stoker's novel.
Watch Bram Stoker's Dracula
Interview with the Vampire (1994)
Based on Anne Rice's The Vampire Chronicles novel, 1994's Interview With the Vampire film stars Brad Pitt as Louis de Pointe du Lac, a Louisianian plantation-owner-turned-vampire. During the film, he recounts his life with Lestat, the vampire who turned him (played by Tom Cruise), and a child vampire called Claudia (Kirsten Dunst). Equal parts macabre and melancholy, Interview With the Vampire is less theatrical than other vampire stories as Louis grapples with what he has become.
Watch Interview with the Vampire
From Dusk Till Dawn (1996)
A pre-gray George Clooney. Salma Hayek dancing with a snake. Quentin Tarantino's foot fetish. From Dusk Till Dawn is a rollercoaster ride from start to finish, following two criminals-on-the-run brothers (Clooney and Tarantino) who take a family hostage as they make their escape to Mexico. Upon crossing the border, they find themselves at a shady club in the middle of the desert. Chaos ensues in the form of shoot-outs, bar fights, and bloodsucking. Oh, and Danny Trejo is there, too.
Watch From Dusk Till Dawn
Buffy the Vampire Slayer (1997-2003)
Twenty-five years after its premiere, Buffy is still synonymous with vampires. The long-running hit show stars Sarah Michelle Gellar as a teenager who has bigger things on her plate than studying for exams: namely, slaying vampires. Buffy is a romantic, melodramatic, soapy, feminist show that anyone can enjoy—and learn life lessons from.
Watch Buffy the Vampire Slayer
Move over, Van Helsing—Wesley Snipes is the slayer no vampire wants to mess with. Half-vampire and half-human, Blade is based on a Marvel comic character known for his superhero-like combat moves and impeccable sense of style. The movie spurred two sequels—Blade II and Blade: Trinity—and there's a remake starring Mahershala Ali in the works.
Watch Blade
Let The Right One In (2008)
Set in the dead of winter, this Swedish film keeps viewers warm with its story of friendship—and scenes of spilled blood. The plot centers on Oskar, a 12-year-old boy bullied at school, who meets Eli, a mysterious girl who moves into his apartment complex. As their friendship grows, Oskar realizes there's something off about his new neighbor; she never gets cold no matter how much snow is falling. In 2010, Matt Reeves adapted the story into Let Me In starring Chlöe Grace Moretz.
Watch Let The Right One In
Set deep in a Louisiana bayou overrun with blood-sucking beings, True Blood is about a telepathic waitress named Sookie Stackhouse (Anna Paquin) who meets and subsequently falls in love with Bill Compton (Stephen Moyer). Think of it as a TV-MA Twilight but with added spooks like shapeshifters, witches, and fairies. This popular HBO show rode high on the 2010s vampire wave—it was so popular that the season 2 premiere was the most-watched program since the series finale of The Sopranos.
Watch True Blood
No matter if you're Team Edward or Team Jacob, the success of Stephanie Meyer's YA vampire romance novel and its subsequent film franchise is undeniable. Twilight propelled the careers of Kristen Stewart and Robert Pattinson, is one of the highest-grossing woman-directed films ever, and caused every bookstore shelf to be flooded with vampire love stories for years to follow.
Watch Twilight
In this South Korean film, a priest (Song Kang-ho, of Parasite and Snowpiercer) is unwittingly turned into a vampire after a medical experiment gone wrong. He develops an irresistible lust for blood—and for a friend's wife—as he struggles between remaining a priest and turning into a creature of the night.
Watch Thirst
The Vampire Diaries (2009-2017)
The Vampire Diaries starts off simple: Teenage girl Elena (Nina Dobrev) falls in love with a 100-plus-year-old vampire named Stefan (Paul Wesley), while his bad-boy brother, Damon (Ian Somerhalder), causes chaos around them. But over the course of its eight seasons, the plot is further complicated by witches, ghosts, werewolves, and other spooky supernatural beings. It's highly addictive and totally bingeable.
Watch The Vampire Diaries
Hotel Transylvania (2012)
Vampires aren't just for adults, but grown-ups will find Hotel Transylvania an incredibly charming tale regardless. The animated feature brings back Dracula in a light he's never been seen in before: hotel owner and doting father. Voiced by Adam Sandler, Dracula works to keep his daughter, Mavis (Selena Gomez), safe from the horrors of humanity. But when a lost and clueless backpacker (Andy Samberg) shows up at the door, Dracula's peaceful life is thrown into chaos.
Watch Hotel Transylvania
What We Do in the Shadows (2014)
What if vampires were more bumbling than bloodthirsty? That's the idea behind Jemaine Clement and Taika Waititi's 2014 film What We Do in the Shadows. The mockumentary showcases the modern-day lives of three New Zealand vampires: Vladislav (Clement), Viago (Waititi), and Deacon (Jonny Brugh) as they hunt for victims and adjust to living with a newly turned vampire roommate, Nick (Cori Gonzalez-Macuer). The film was a hit and inspired spin-off projects Wellington Paranormal and a TV show of the same name.
Watch What We Do in the Shadows
What We Do in the Shadows (2019-)
We'd be remiss if we didn't highlight the WWDITS show spin-off. Just as eccentric (if not more so) than the 2014 movie, this series has the same premise of vampires living together in the 21st century, though set in Staten Island in place of Wellington. With stellar performances by Matt Berry, Natasia Demetriou, Kayvan Novak, Mark Proksch, and Harvey Guillén, WWDITS is gut-bustingly funny. But perhaps its greatest accomplishment is its introduction to a new race of nightstalker: the Energy Vampire.
Watch What We Do in The Shadows
Writer and director Mike Flanagan followed the success of The Haunting of Hill House and The Haunting of Bly Manor with the 2021 masterpiece Midnight Mass. The Netflix miniseries is set on a small island town and begins with the arrival of a mysterious new priest claiming he's filling in for the sickly Monsignor Pruitt. While it's not obvious that Midnight Mass is a vampire tale until a few episodes in, the story is refreshingly original and one you'll want to binge every Halloween season.
Watch Midnight Mass
Based on Richelle Mead's YA romance series of the same name, Vampire Academy leans heavily into the eastern European mythology of moroi (the "good" vampires, born as bloodsuckers) and strigoi (evil, undead, "turned" vampires). The story focuses on Rose (Sisi Stringer), a dhampir (half-vampire, half-human) who must protect her moroi BFF from the evil strigoi—and who falls in love with a hunky Russian dhampir, Dimitri (Kieron Moore).
Watch Vampire Academy
Interview with the Vampire (2022-)
A nuanced and well-acted television remake of the 1994 film of the same name, AMC's Interview with the Vampire places Jacob Anderson in the role of Louis de Pointe du Lac, 50 years after the events of the movie. His history, however, is retconned: This Louis was never a plantation owner but instead a New Orleans businessman, and his relationship with Sam Reid's Lestat is no longer merely queer-coded. It's a smart, steamy take that's getting better and better as the series rolls out.
Watch Interview with the Vampire
Advertisement – Continue Reading Below