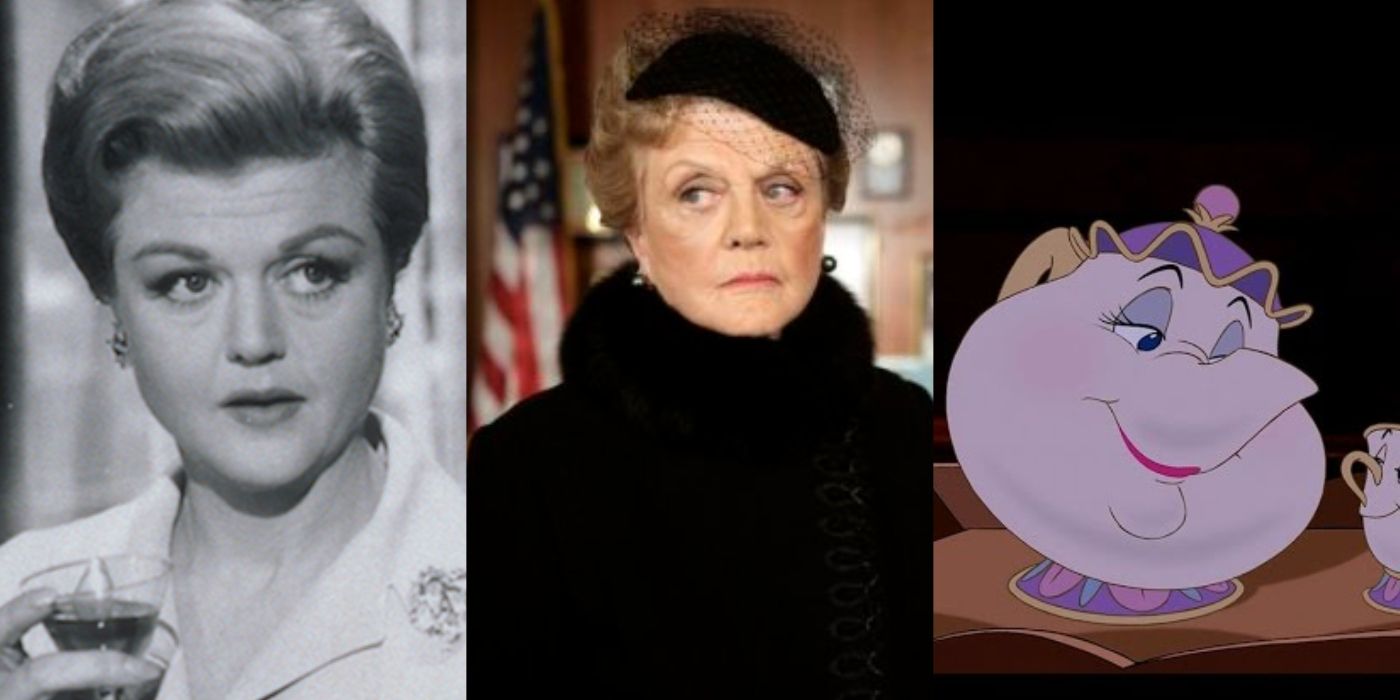 One of the last remaining legends from Hollywood's golden age, Dame Angela Lansbury sadly passed away at the age of 96 on October 11th. She left behind an unforgettable legacy that will continue to live on through her iconic roles throughout both film and television. From series such as Murder, She Wrote to movies such as Bedknobs And BroomsticksLansbury's talent was more than prevalent, as she brought an undeniable charm to each and every role she tackled.
Earning three Oscar nominations and 18 Emmy nominations in the process, she amassed an impressive number of credits, playing a wide variety of characters and covering nearly every genre, from intense mysteries to animated musicals. Luckily, for anyone looking to further explore her filmography, IMDb has all of her onscreen roles listed, and some might be surprised to find that her highest-rated works include some that most may not have even heard of before.
10/10

The Manchurian Candidate (1962): 7.9
Available To Watch On Tubi
Surrounding a Korean War veteran turned brainwashed sleeper agent assassin by a Communist conspiracy, The Manchurian Candidate is the perfect choice for anyone in the mood for a well-constructed political thriller. In the film, Lansbury plays Eleanor, the mother of the brainwashed veteran and member of the conspiracy, who orders her son to assassinate a Presidential candidate.
RELATED: Sidney Poitier's 10 Best Movies According To IMDb
Known for the warm and polite demeanor she brought to so many of the other characters she was most known for, the film offered an entertaining change of pace, putting her in much more villainous role. Lansbury's despicably evil performance in the film even helped her to land her third Oscar nomination for Best Supporting Actress.
9/10

Stage 7 (1955 – 1956): 8.0
Not Currently Available To Stream
Throughout the last decade, viewers have been treated to a wide selection of some of the best TV anthology series, but one of the earliest examples that pioneered the concept of a TV anthology was the 1950s series, Stage 7. No episode was ever alike, with each one featuring a different story of a different genre with a completely different cast.
Lansbury made a one guest appearance in the first season's 15th episode, titled "Billy and the Bride." The episode took place in the Old West and featured Lansbury as a New Yorker who moves into her new husband's ranch and unknowingly strikes up an acquaintanceship with the infamous outlaw, Billy the Kid.
8/10

The Eleventh Hour (1962 – 1964): 8.0
Not Currently Available To Stream
Although The Eleventh Hour, an NBC medical drama surrounding psychiatric cases, only ran for two seasons, it garnered some impressive accolades, being nominated for four Emmys and one Golden Globe. Along with such rising stars of the time as Kurt Russell and George Takei, Lansbury also made a guest appearance in the show's first season.
RELATED: Which Is Better – Bedknobs & Broomsticks Or Mary Poppins?
In the series' 25th episode, Lansbury played the mother of a troubled teenager who joins him in therapy along with the rest of the family. Over the course of the episode, the series' lead character, Dr. Paul Graham, learns that the family is much more dysfunctional than he realized.
7/10

Beauty And The Beast (1991): 8.0
Available To Stream On Disney+
Considered to be one best animated Disney films of the '90s, Beauty And The Beast took the Disney Renaissance one step further after the success of The Little Mermaid, becoming the first animated film to ever be nominated for Best Picture at the Oscars. Unlike the more recent animated works from Disney, the rest of the film's voice cast didn't really feature any "big-name" celebrities, but Lansbury's voice truly stuck out in the best way as the anthropomorphic teapot, Mrs. Potts.
Lansbury brought a comforting warmth to the character and her performance of the film's titular song is often cited as one of the film's main highlights. Mrs. Potts has since come to be thought of as one of Lansbury's defining roles and one that will undoubtedly continue to charm viewers of all ages for decades to come.
6/10

Glass Onion: A Knives Out Mystery (2022): 8.0
Coming Soon To Theaters & Netflix
Rian Johnson's Knives Out was considered one of the best movies of 2019, and it was only a matter of time before a sequel had been made. Set to be released in November, it was recently announced that Glass Onion: A Knives Out Mystery, would be Lansbury's final on-screen appearance. Along with Daniel Craig returning to the role of Benoit Blanc as he solves a new mystery on a private island in Greece, the film features a new set of characters, with an all-star cast including Edward Norton, Kathryn Hahn, and Dave Bautista.
With Johnson's admitted love of murder mysteries, perhaps it's no surprise that the star and face of Murder, She Wrote would be making a cameo. No matter how brief of an appearance Lansbury may have in the film, there's no doubt that it will make for unforgettable final role and an extremely bittersweet farewell to one of the all-time greats.
5/10

Fireside Theater (1949 – 1955): 8.1
Not Currently Available To Stream
Premiering in 1949, Fireside Theater has been cited as the first successfully filmed television series in America. Much like Stage 7the series was an anthology, with Lansbury only appearing in a single episode.
The series is currently unavailable for streaming and not much information about Lansbury's episode or role has been made available either. For those IMDb users who remembered the show well enough to leave such a high enough rating, it's clear just how influential and effective the show must have been for its time.
4/10

Law & Order: Special Victims Unit (1999 – ): 8.1
Stream On Hulu & Peacock
Throughout the more than two-decade-long of the Law & Order spin off, Law & Order: Special Victims Unit, there has been a select group of guest stars who went on to have major roles. However, there have also been countless memorable one-off appearances from notably high-profile performers, with Lansbury joining the list in 2005 after appearing in the season six episode, "Night."
Lansbury's episode, however, was a special case as it was part of a two-part crossover event with another spin-off, Law & Order: Trial By Jury. She also appeared in the latter series' episode, which led to her earning two Emmy nominations for Guest Actress in a Drama Series in the same year. Much like The Manchurian Candidatethis episode gave her a chance to channel a more antagonistic energy as the defensive and manipulative mother of a serial rapist, refusing to cooperate with the authorities.
3/10

The Trials Of O'Brien (1965 – 1966): 8.2
Not Currently Available To Stream
Before Peter Falk became one of the most iconic TV detectives on Colombohe was the star of another series, The Trials of O'Brien, playing Daniel O'Brien, an eccentric Shakespeare-quoting lawyer. The series didn't run for nearly as long as Colombo did, but it offered an early display of Falk's talents and also featured a surprising amount of guest appearances from such screen legends as Rita Moreno, Roger Moore, and even Lansbury herself.
RELATED: 10 Best Betty White Movies, Ranked By IMDb
Lansbury guest starred in the series' 14th episode, which involved O'Brien trying to invalidate a will in order to prevent a trio of heirs from killing one another.
2/10

Robert Montgomery Presents (1950 – 1957): 8.3
Not Currently Available To Stream
From 1950 to 1957, actor Robert Montgomery hosted a namesake series in which each episode featured hour-long adaptations of different plays, books, and Hollywood films. The series had an ensemble cast playing different characters through every episode, but it also brought in several guest stars throughout its run, with Lansbury being one of them.
Lansbury appeared twice in the series: guest starring in the season 1 episode, "The Citadel," and the season 5 episode, "Cakes and Ale."
1/10

Judgment At Nuremberg (Playhouse 90) (1956 – 1961): 8.5
Stream On Hoopla & PlutoTV
Of all the anthology series that aired on TV throughout the 1950s, Judgment At Nurembergoriginally known as Playhouse 90, seemed to be the most ambitious, with each episode incorporating some of Old Hollywood's greatest talent both in front of and behind the camera. Most of the episodes were based largely on crime dramas and mysteries.
With Lansbury's two guest appearances on the show, her future association with the murder mystery genre that came from Murder, She Wrote seemed like destiny.
NEXT: 10 Episodes of Murder, She Wrote That Are Actually Creepy