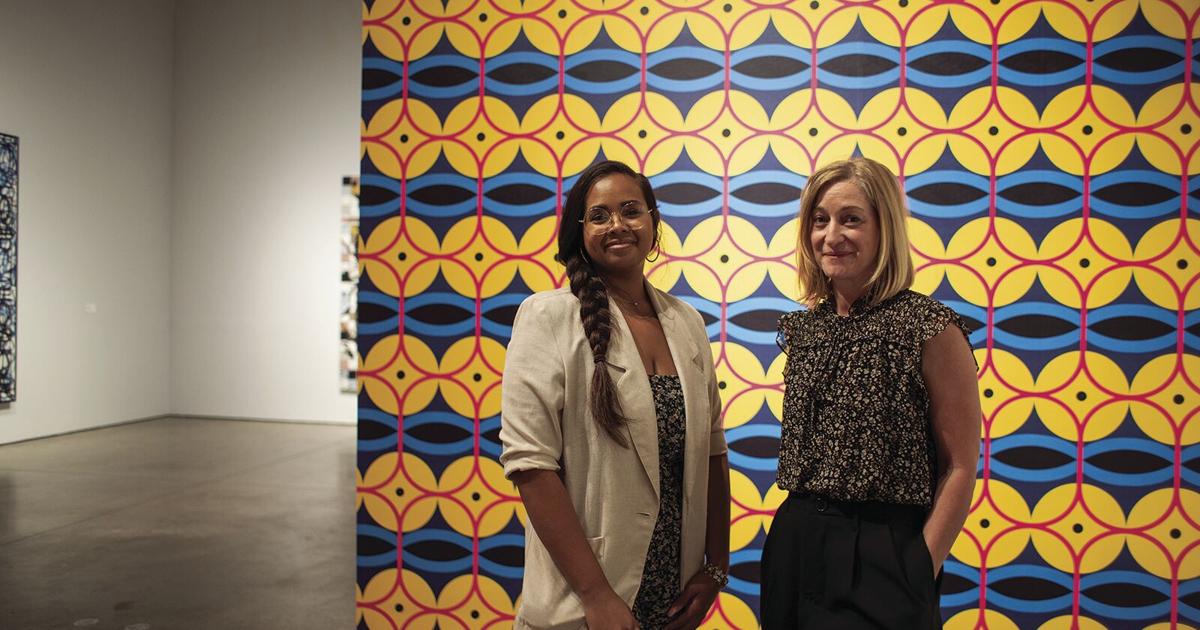 Scottsdale Museum of Contemporary Art has opened a unique of the works of 27 Black artists collected by Paradise Valley residents and philanthropists Iris and Adam C. Singer.
The exhibition, featuring 40 pieces of art that will remain on display until Feb. 12, is organized into four categories: portraiture, mythology, abstraction and a combination of portraiture and abstraction.
"Iris said she was always drawn to portraiture collecting and Adam was always drawn to abstraction, so it's kind of sweet that it has those ends of those spectrums and everything in between," said SMoCA Director and Chief Curator Jennifer McCabe.
Though the Singers had spent a quarter of a century collecting works, McCabe says that it took nearly a year to plan the exhibition, which covers about 7,000 square feet of museum space.
To organize 40 artworks, SMoCA reached out to Allison Glenn, currently senior curator at Public Art Fund in New York City.
"We invited a curator, Allison Glenn, to make a story behind all these works and so Allison came up with that idea of ​​the title in our time since these works are recent in that they're all within the last 20 years," McCabe said.
The gallery offers guests a different feel at each twist and turn through the exhibit.
The first set of paintings appears in a brightly lit room that highlights the vibrant colors of the portraits. That gives way to a darker room that enhances the mystique and mythology of the works.
After guests turn the corner into the next room, they are greeted again by a bright light that enhances those exhibits — particularly a mixed media piece by artist Betye Saar that combines a human statue with the legs of a large bird inside of a cage. The work is meant to symbolize captivity and casts three shadows on the wall behind it.
The last segment of the exhibition ends in a dimly lit room that is illuminated by abstract artworks whose colors shine through the dark backgrounds.
According to SMoCA curatorial assistant Keshia Turley, the layout was intentional.
"I think for Allison it was really important to incorporate different spaces within the museum so that people feel like they are entering different spaces, which is why the mythology section is darker and the (Mark) Bradford room has a darker feeling," Turley said . "It's like we're entering into a new realm."
There were a few white walls that the SMoCA team felt jazzed up by calling on local artist Merryn Omotayo Alaka to create wallpaper.
"(Alaka) has done pattern work in the past (for us) and so we knew she might be a good contact to reach out to," Turley said. "She designed the wallpaper specifically for this space connecting the different colors from the artwork but also incorporating a history of bead-making from Ghana.
"It was wonderful to have her participate and have a local connection with all of these artists who are so widespread right now."
Alaka's wallpaper is not the only binding tie in the exhibition as some artists have drawn inspiration from one another.
"In January, the curator invited 10 artists to write short essays on each artwork and artist Derek Fordjour wrote about the influence of Mark Bradford, who's one of the more well-known African-American artists that's in the show, on his practice," McCabe said.
"Each artist has important careers or emerging careers and there's a lot that you could dig into content-wise, but it's also just visually really interesting in that there are so many similarities that are at play."
McCabe hopes that guests are enriched by the exhibit.
"I hope that they understand or find something maybe about painting that they didn't know about," she said.
She also hopes that guests view the exhibition as a time capsule of modern art.
"Like the title 'in our time,' these artists are important at this moment in time, so we'll be like a capsule in that way," McCabe said.
If You Go:
In Our Time: Selections From The Singer Collection
When: Until Feb. 12.
Where: Scottsdale Museum of Contemporary Art, 7374 E. 2nd St.
Cost: Visit the website for pricing.
Info: smoca.org.
.