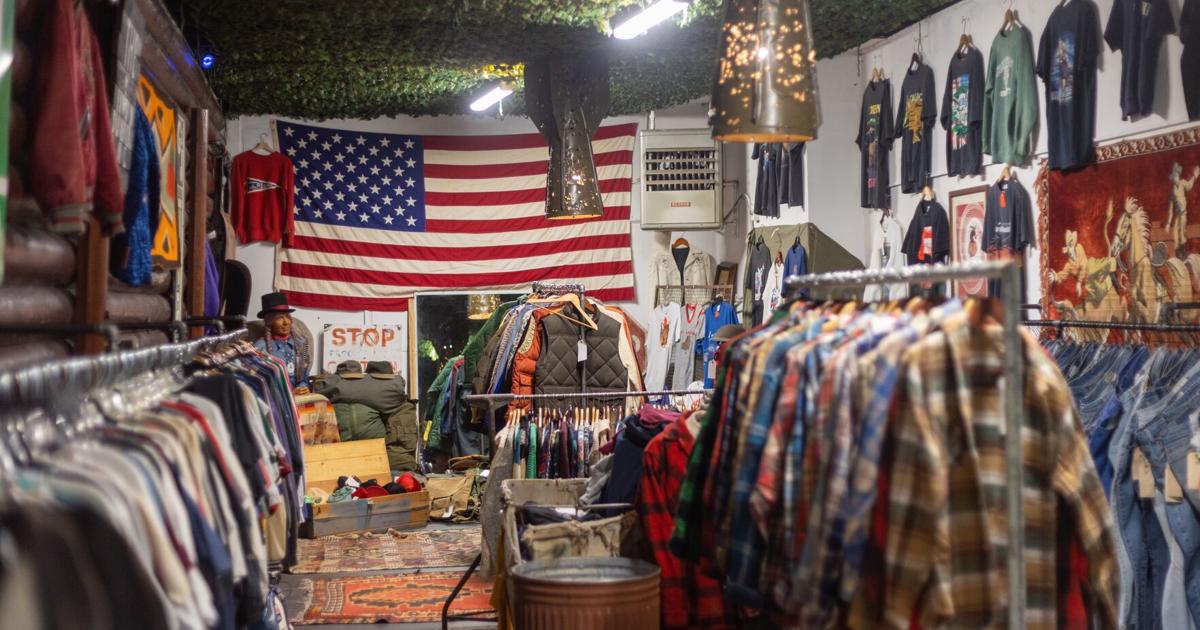 Spokane has no shortage of vintage thrift stores, but Collective Threadz, at 719 W. Garland Ave., looks to stand out in this competitive arena. Having opened three weeks ago, the store is a new addition to the bustling Garland District.
Although new to the area, Collective Threadz brings years of combined experience and a love of vintage clothing to consumers.
According to the owner, Tyees Cardwell, Collective Threadz fits right in with the larger Garland District community and things are off to a good start.
"Business has been really good," Cardwell said. "We've gotten a lot of good feedback on social media, a lot of people coming in. The Garland area is really excited to have this type of shop here in this community."
The Garland District is notable for its numerous and diverse local businesses, and Collective Threadz is no exception. The shop aims to fill a niche in the community left by the closing of Drop Yer Drawers, the secondhand clothing outlet that previously occupied the space where Threadz is now.
Collective Threadz aims to be more than just an average secondhand clothing store. The focus is on unique and desirable vintage clothing to meet the stylistic needs of customers of all ages and preferences.
"We look for pieces that are unique, pieces that are one-of-one and have meaning and history to them," said Mike Kay, curator of The Bunker, one of the four vendors at Collective Threadz. "People love to hear the story, where it came from and how I got it … Basically, every piece has history behind it."
Collective Threadz strives to find uniqueness in the Spokane vintage community by focusing on 'true vintage' items.
According to Cardwell, 'true vintage' items are those from the 1950s, 60s, 70s and earlier.
"Our vendors Ernest and Grant both have unbelievable collections of true vintage," Cardwell said. "They have a lot of the old military pieces … people come in and really love seeing it."
Besides its collection of true vintage pieces, Collective Threadz specializes in pieces from the 1980s and 90s, which according to Cardwell are very popular right now.
"I think that the selection for the 80s and 90s is huge here," Cardwell said. "I think we cater to more of a range of ages. I like having the different ages, because that way you're hitting the different age groups of what people are looking for; older people want more true vintage, younger generations want more from the 80s and 90s."
The space that Collective Threadz occupies features multiple rooms, and each one is curated by a different vendor. Each has its own specialties and come together to make the shop the best it can be.
"All these [vendors] know each other; they're on the hunt together, they socialize together, they're all into the same things," Cardwell said. "It's a good mix of people who are on it. Out there looking, getting the new stuff, keeping their areas filled. I think it's a good mix of people."
For Gonzaga University students who are looking for new vintage stores to explore, Cardwell said to look no further than Collective Threadz.
"I think the people that are in here, as far as the vendors, have the best vintage in town," Cardwell said.
And for students looking to show some vintage school spirit, Collective Threadz has that covered too.
"We run across a lot of vintage Gonzaga stuff," said Ernest Finnie, one of the vendors and a partial owner the shop. "We have lots of vintage sports, and just a cool vibe."
Students who visit can expect to experience some of the love that these vendors have for their craft along with the collections they curate. Kay hopes that he can share some of that love with his customers too.
"It's the thrill of finding it, the thrill of having it … it's the hunt for me, I guess," Kay said. "When I see somebody that comes in and gets super excited, it makes me happy to see that. When you come in, you're part of our family. We're real; you won't see a fake side of us, we're just real."
.