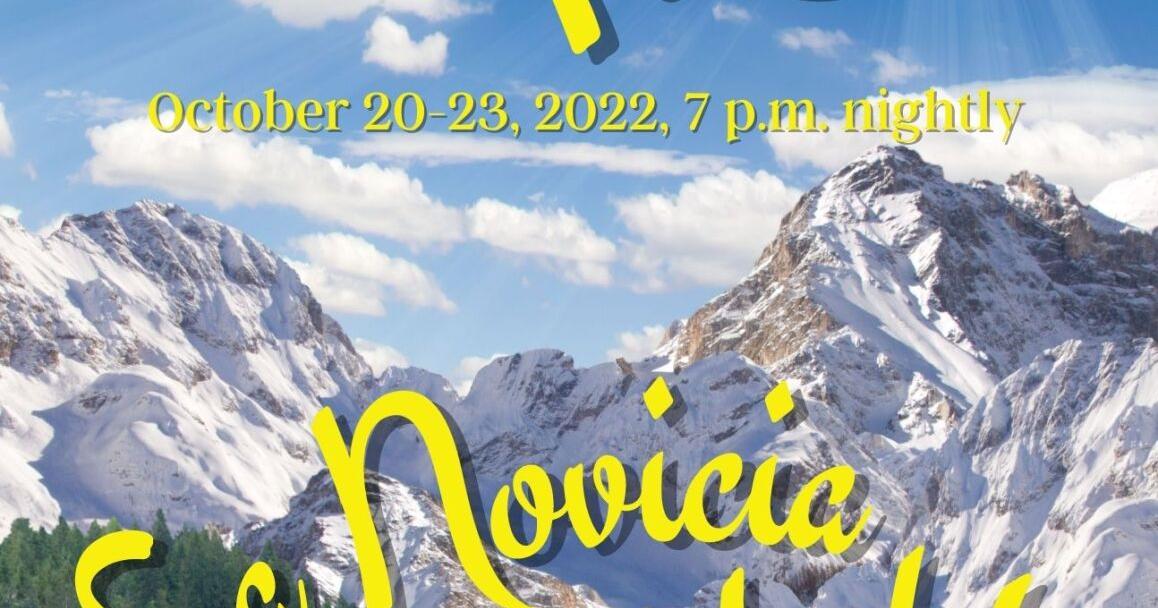 Beginning Thursday, the historic Sheridan Opera House stage will be filled with the Not-So-Young People's Theater production of "The Sound of Music." The beloved musical will be performed each night through Sunday at 7 pm And chances are beyond likely you will know somebody performing — 29 members of the community ranging in age from youth to adults, have been cast in the classic Rodgers and Hammerstein show.
Both familiar faces and new talent fill the numerous roles in this enduring musical. Theater veterans like James Van Hooser, Peter Lundeen, Meghan Knowles and Ryan Heidenriech were cast, as well as more youthful board-treaders like Grace Aumiller, Sylvia Trn Dalton and Vivian Julia. What makes the cast especially remarkable is the inclusion of players whose names have rarely, if ever, appeared in show playbills. That inclusivity is what director Leah Heiddenriech and co-director Jen Julia agree makes this production of "The Sound of Music" truly a community effort.
"'The Sound of Music' is my all-time favorite musical," Heidenreich said. "I grew up on it, it is my most favorite music, and I have always wanted to be a part of its magic. With the mission of the Not-So Young People's Theater to bring the entire community of all ages together, this show was a no-brainer. I knew that this show would be one that would bring a buzz of excitement in Telluride, and I was right. I was stounded by how much of our little town came out of the woodwork to audition for this show. It will truly be a community theater production, and I can't wait to see it come to life."
Julia, who founded Young People's Theater for the Sheridan Arts Foundation and ran the program for 17 years, is thrilled to have been asked to share directing duties with Heidenriech.
"It's the most wonderful feeling to be back in the Sheridan Opera House, creating theater with such a talented and joyful team," Julia said. "Collaborating with Leah has been the most fun, and watching her in action, I'm more certain than ever that she's the perfect person to be at the helm of the YPT. The cast is a mixed group of seasoned performers and newcomers to the stage, and all of them bring the same level of heart and stoke to this process. This is truly community theater at its best."
Kathrine Warren is one of the cast's handful of "never-evers," as an adult, in any case. Though she calls herself a theater kid at heart and kept a hand in stagecraft with crew work in high school productions, she found herself drawn to auditions by an irresistible combination of factors — her friends (and people she deeply admires) are the directors and the longstanding family New Year's Eve tradition of watching the film version. Warren was cast as a nun.
"Doing this show has been an amazing way to step outside of my comfort zone while also feeling completely supported by my fellow nuns and Jen and Leah," she said. "It's been a blast reconnecting with old friends and making new friends during the rehearsal process and the cast features a wide array of community members. The rehearsal process has been so fun, and inclusive and helped me realize that I'm actually a better singer than I ever gave myself credit for."
Heidenreich said she customarily handles all of the tasks required to stage a show, but that "The Sound of Music" required more hands on deck.
"Usually, I do this all as a one-woman show," she said. "But to do my most favorite musical justice, I decided I needed to bring in the big guns, which is Jen Julia. Jen will be able to focus on the staging of the play, while I focus on all of the music and choreography, and we will be collaborating together on-stage management, set design ideas, and all the little details that bring the show to life . This particular show is a massive undertaking, and I can't do it alone. Normally, for a musical of this scale the creative team would consist of a director, stage manager, musical director, choreographer and administrative director."
For any Rip Van Winkles out there, "The Sound of Music" was first a Broadway musical, but took on a second, perhaps more well-known, life in the 1965 movie adaptation, starring Julie Andrews and Christopher Plummer. The narrative follows an exuberant young governess in 1938 Austria as she brings music and joy back to a broken family, only to face danger and intrigue as the Nazis gain power. As sung by Julie Andrews and the cast of the film, songs such as, "Do-Re-Mi," "Climb Ev'ry Mountain," "My Favorite Things" and "Sixteen Going on Seventeen" have become firmly embedded in the American psyche.
The Not-So-Young People's Theater was founded in 2021 by Heidenreich as a way to do one universally beloved musical a year with both child and adult community members. Last year's production, "I Love You, You're Perfect, Now Change," was a four-person all-adult cast to streamline the rehearsal process during the pandemic, but this year, Heidenreich has chosen one of the most beloved musicals of all time with cast members as young as six years old through adulthood. All 29 cast members are part of the Telluride community.
Heidenreich held auditions in May 2022, while rehearsals began Aug. 22 on the historic Sheridan Opera House stage.
The show stars: Maria Rainer-Elizabeth Forsythe; Sister Berthe-Katrina Aumiller; Sister Margaretta-Jenny Birrittella; The Mother Abbess-Megan Murphy; Sister Sophia-Grace Aumiller; Captain Georg Von Trap-James Van Hooser; Franz-Peter Lundeen; Frau Schmidt-Yana Pollard; Liesl-Eva Henschel; Friedrich-Elijah Aumiller; Louisa-Pepper Tyson; Kurt-Arthur Forsythe; Brigitta-Vivian Julia; Marta-Sylvia Trn Dalton; Gretl-Chai Casanova; Rolf Gruber-Hollis Andrew; Elsa Schraeder-Meghan Knowles; Ursula-Erika Henschel; Max Detweiler-Ryan Heidenreich; Herr Zeller-Andrew Murphy; Baron Elberfeld-Lionel Starr; Baroness Elberfeld-Kathrine Warren; Frau Zeller-Neddie Troutman; A New Postulant-Kiara Warren; Admiral von Schreiber-Dan Henschel; Fraulein Schweiger-Neddie Troutman; Trio: Erika Henschel, Kathrine Warren, Kiara Warren; Lieutenant Jed Sharpe; Nuns/Ensemble-Jula Cieciuch, Grace Aumiller, Kiara Warren, Kathrine Warren, Neddie Troutman, Erika Henschel; and SS Officers/Ensemble-Lionel Starr, Andrew Murphy, Jed Sharpe, Dan Henschel, Gregory Aumiller, Emmett Murphy.
The Sheridan Arts Foundation's Not-So-Young People's Theater presents "The Sound of Music" on Thursday through Sunday at 7 pm nightly live at the historic Sheridan Opera House. Tickets are $20 for students 18 and under, and $30 for adults, plus a $5 ticketing fee. Tickets are available at sheridanoperahouse.com
.