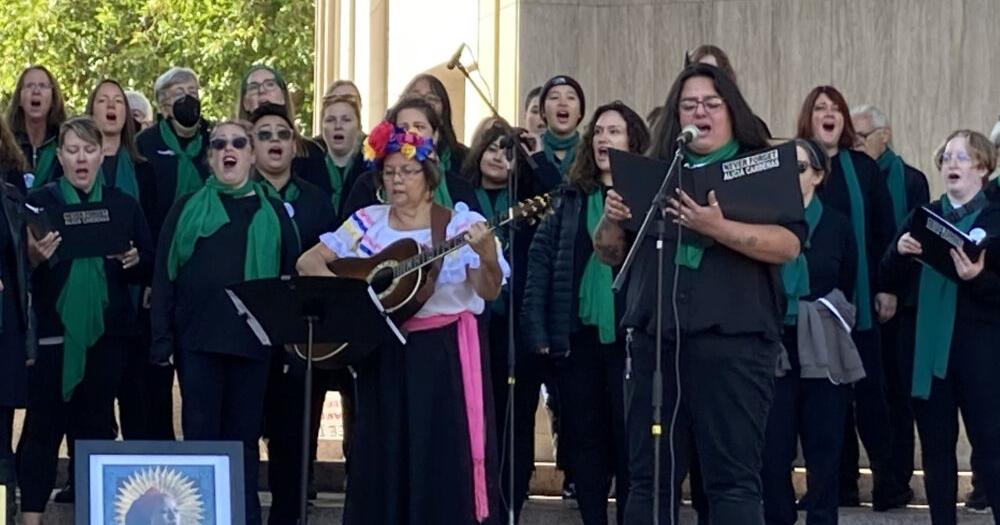 When the US Supreme Court came down with its decision to overturn Roe v. Wade on June 24, the Denver Women's Chorus had a difficult decision to make. Less than 24 hours later, it was scheduled to sing the national anthem before the US women's national soccer team's exhibition game against Colombia at Dick's Sporting Goods Park. But they were no longer in a mood to be singing their patriotic hearts out.
"With the way the Supreme Court has been moving, we weren't really surprised — but we were really pissed off," said Artistic Director Clelyn Chapin. But after some careful consideration, the anthem went on, beautifully.
Instead, "We decided to save our rage for the stage," said Chapin.
And that stage is now set for three upcoming concerts titled "My Body, My Voice" to be held Nov. 4-5 at Denver's Central Presbyterian Church and Nov. 6 at the Broomfield Auditorium.
This is not your grandma's church choir.
"The traditional role of women's choirs has been to sing pretty," said Chapin. "We are not that kind of chorus. We are a group of LGBTQ+ who want to sing about important issues. We believe in making amazing music — and the more powerful that music is, the more potent the message becomes."
The 38-year-old Denver Women's Chorus is fighting fire with falsetto — and some guttural rage bass thrown in. For "My Body, My Voice," the company has arranged a program of songs about basic human rights, reproductive justice and bodily autonomy.
"Our music reflects the anger that we are feeling right now," Chapin said. "Through our music, we really want people to understand the experience of being a woman at a very frustrating time in our country."
They've created choral arrangements for Ani DeFranco's "Hello Birmingham," about the murder of an abortion doctor in Alabama. "Canción sin miedo" ("Fearless Song") was written by Mexican singer Vivir Quintana as a warning, Chapin said, to authorities there who keep allowing women to be harmed by injustice or violence. "A Beautiful Noise," by Alicia Keys and Brandi Carlile, is about a whisper that turns into a collective scream.
Chapin says a gathering of the collectively angry is not the same thing as an angry mob that attacks the US Capitol. The Denver Women's Chorus' intent is more a call to action — legal, democratic action. The concerts, in partnership with a Latina-led local nonprofit called the Colorado Organization for Latina Opportunity and Reproductive Rights (COLOR), have been strategically scheduled as a last chance to register voters for the November midterms.
Chapin said the concerts are an open invitation to anyone on the other side who is open to a dialogue — whether in words or song.
"Some people who are entrenched in their views about abortion often do not know that they know a person who has been in a situation where they needed or wanted to have an abortion," said Chapin. "If they come, they will hear some of those stories. I think there is a lot of room for empathy in this conversation."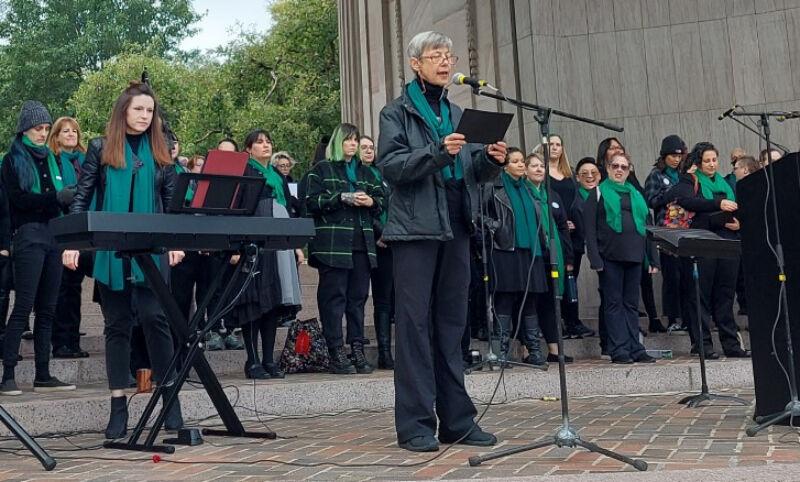 .