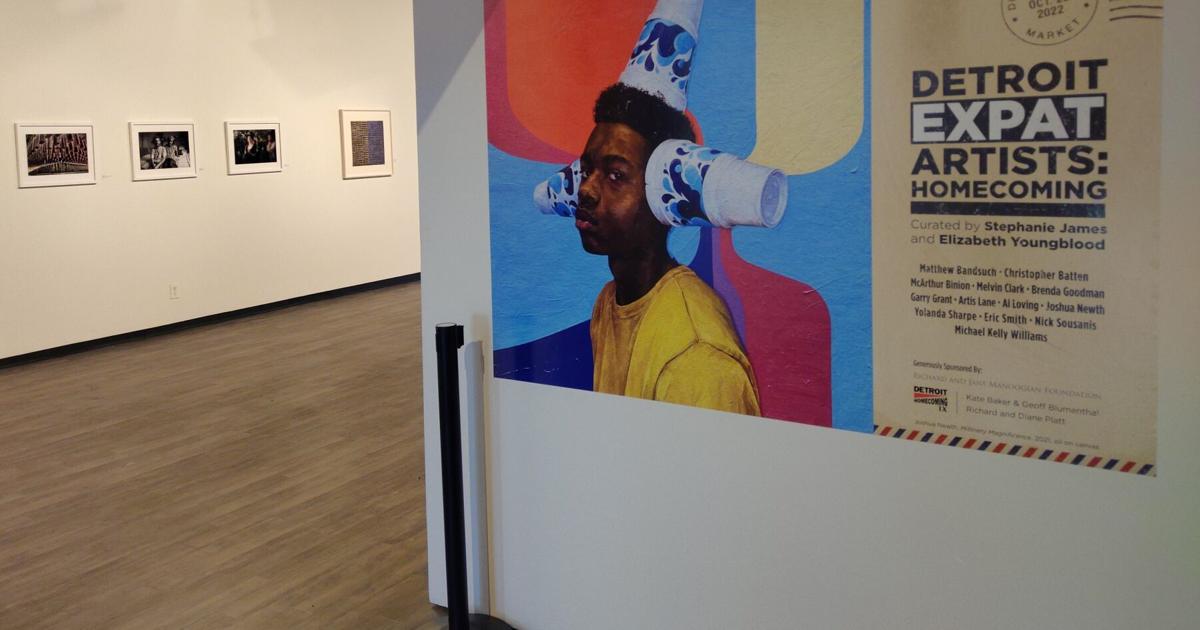 Nonprofit contemporary art gallery Detroit Artists Market celebrated 90 years of business with a homecoming exhibition featuring visual artists.
The Detroit Expat Artists: Homecoming exhibition ran from Sept. 23 to Oct. 22 and was intended to call home the Detroit-raised artists who have moved elsewhere, said co-curator Elizabeth Youngblood.
"So for myself, I thought more about linking it to Detroit Homecoming the Crain's does, because they bring in all these business people who are from Detroit," she said. "And my thinking was, let's acknowledge the creative — the visually creative — who come from Detroit and go elsewhere…"
Detroit Expat Artists: Homecoming featured artists: Matthew Bandsuch, Christopher Batten, McArthur Binion, Melvin Clark, Brenda Goodman, Garry Grant, Artis Lane, Al Loving, Joshua Newth, Yolanda Sharpe, Eric Smith, Nick Sousanis and Michael Kelly Williams.
Youngblood said there isn't much recognition given to visual artists compared to other areas of fine arts.
"There's that kind of camaraderie in the music world, I think across most of the genres," she said. "But you know, we don't get a lot of love that way in the art community, visual arts…And then luckily (the exhibition) also coincided with the 90th anniversary for the artist market, which is a huge thing. "
Co-curator Stephanie James said the artists involved and their respective places of education should be given acknowledgment.
"All of these artists were thrilled to be showing in their hometown, what they consider to be their hometown, and at the Detroit Artist Market," James said.
Nick Sousanis, an illustrator in the exhibition and former WSU graduate, said his artwork can be interpreted differently in comparison to other standard comics.
"The work that's there, I hope gives people a sense of…the kind of ways that comics can do serious ideas," Sousanis said. "So in terms of my process, trying to figure out how the reader's gonna experience it, how I'm gonna basically choreograph an experience for you to feel certain ways as you move through it, that's a huge part of my labor."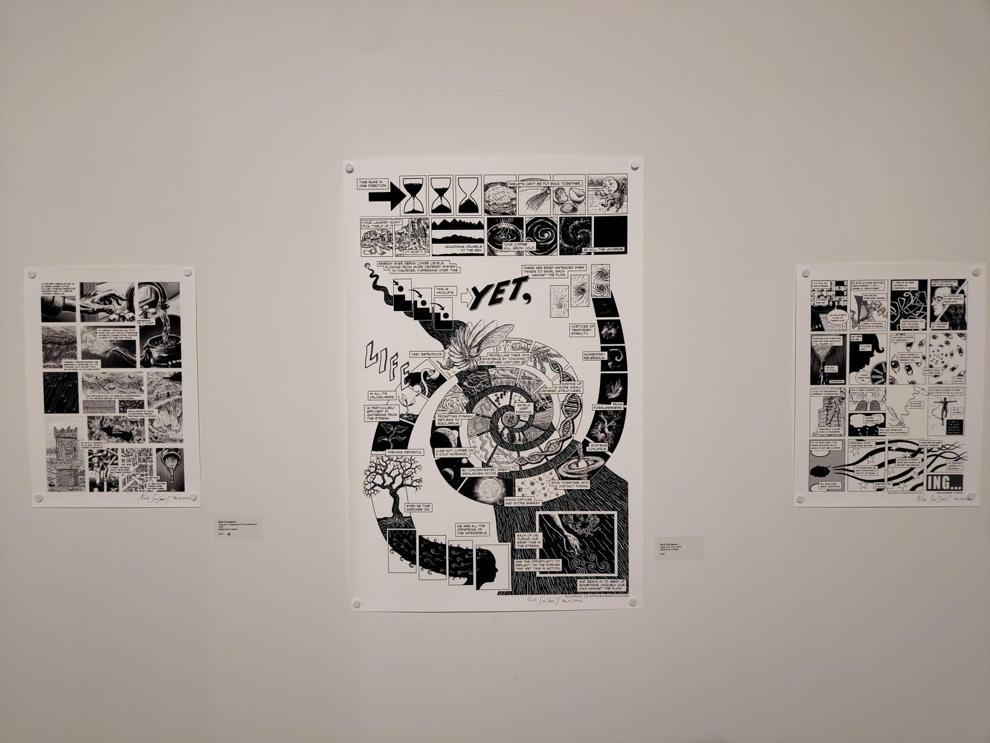 Youngblood said the exhibition was originally planned in 2020 and set to take place in 2021, but the COVID-19 pandemic delayed the opening.
"…There was no concern about COVID when we started thinking about this," she said. "And then COVID hit and everything shut down, including Crain's…(it) was Gary Lanco that reminded us that…the 90th anniversary was the next year. And so it made sense to kind of move us."
Artist Michael Kelly Williams had several pieces in the exhibition, and said he receives most of his inspiration from music.
"My work has a lot to do with music. Music, ancient art and African art are very strong influences in the work," he said. "My interest in music I credit to having grown up in Detroit."
Williams said his piece "For Geri" was dedicated to a close friend.
"She was a dear friend, an amazing pianist who championed women in jazz," he said. "…the connection with the actual work 'For Geri' is influenced by a Yoruba shrine…it's a devotional piece…it's called 'The House of Head.'"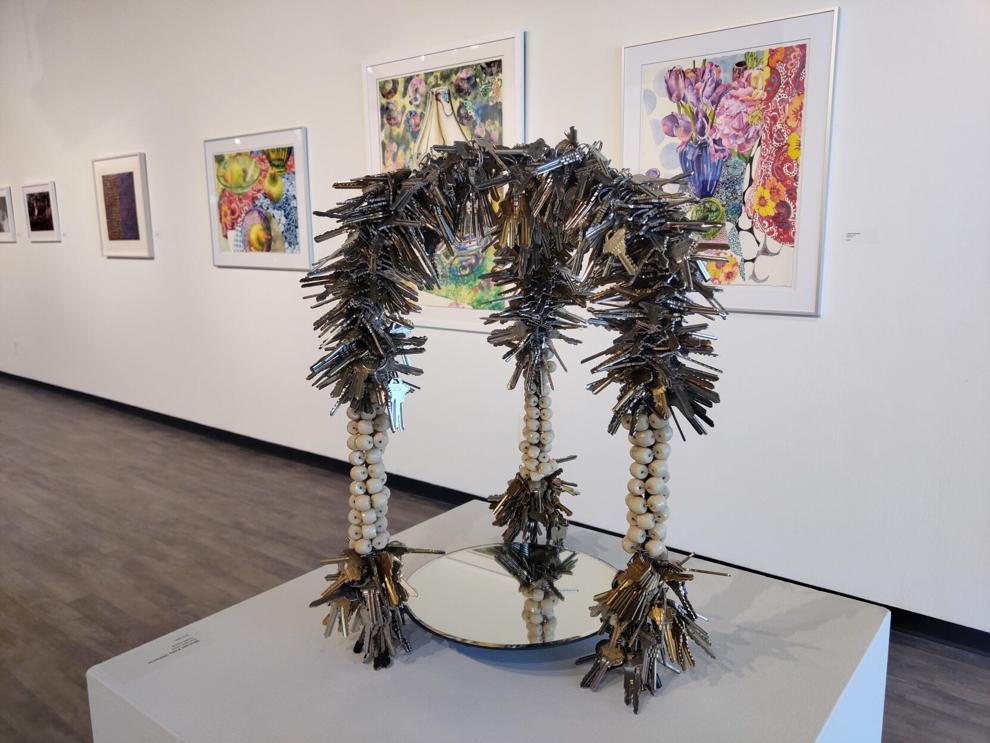 James said the Detroit Expat Artists: Homecoming exhibition was a way for older artists to become familiar with the younger generation of artists today.
"I hadn't thought so much how much the intergenerational communication, and contact and exposure would mean to the artists as well in terms of so many of the older artists not being familiar with some of the really young ones, but being delighted to see . . .what they're doing, or, you know, just to have that fresh input and energy," James said. "And likewise, some of the younger artists who weren't familiar with some of the older artists…"
---
Ashley Harris is the managing editor for The South End. She can be reached at managingeditortse@gmail.com.
Photos provided by Matt Fry.
.