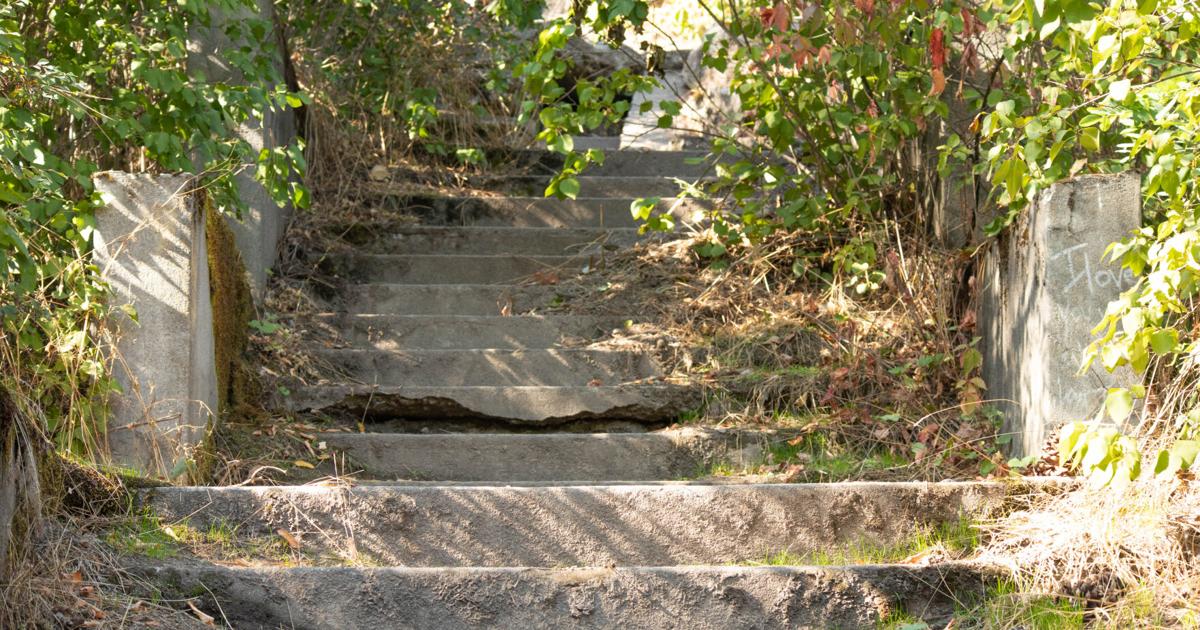 On the edge of Greenwood Cemetery, a crumbling staircase lies in disrepair. Each Halloween these "1,000 Steps" are featured on the list of Spokane's most popular haunts.
"The local legend is that it feels like it takes a thousand steps to get up to the top because there's so many ghosts that try to stop you from reaching the top," paranormal investigator Amanda Paulson said. "There's one story of an apparition of a green man, and there's also been lots of reports of orbs, mist and also voices."
According to spokanehistorical.org, the stairs were built in the late 1800s by a fraternal order called the Elks Society. The steps lead to an abandoned mausoleum, which was initially meant to serve as the final resting place for members of the order. Instead, the Elks went bankrupt, and the steps and mausoleum were both deserted.
The ruins are now obscured by overgrowth and inscribed with eerie graffiti-poetry of recent visitors. In reality there are only 60 or so steps total, but the climb to the top is treacherous — as many of the steps are uneven and covered with debris.
Paulson advises caution to those interested in traversing the steps.
"Be careful, because they're really decrepit stairs, and I would say start from the top — actually get a good lay of the land before you just start climbing up the stairs because they're pretty rough," Paulson said.
According to Paulson, the stairs largely derive their reputation due to their liminality — a trait commonly associated with haunted locations.
"I find those stairs to be a very liminal place, and a lot of people say liminality can bring paranormal activity because a liminal space is a place in between one and the other, you know, like a doorway or a hallway or a staircase, "Paulson said.
Though she has never had a run-in with ghosts at the "1,000 Steps" herself, Paulson believes communication is key for those anticipating a paranormal encounter.
"I always tell people to state your intention there and say out loud, 'Hey, I just want to talk to you'," Paulson said. "Speaking out loud is a really powerful way to establish what you're doing there and establish yourself with the ghosts; I would say to anyone going to check it out, use your phone. There's lots of ghost hunting tools on your phone."
Paulson believes that despite their allure, accessing the steps at night when paranormal activity is most likely to occur may not be possible.
"I do think the cemetery is haunted," Paulson said. "I've investigated the cemetery a handful of times, but the steps themselves I've only investigated once, and it was in the daytime because it's not legal to be there at night. But I don't know how ownership of the cemetery is anymore, if they kind of turn a blind eye I have no idea."
In the past year a bronze gate has been installed in front of the steps, which may be an attempt to ward off curious haunt-seekers.
According to Candace Arambaru, director of human resources and marketing at Greenwood, the cemetery has had issues with vandalism and litter being left at the steps.
"For us it's really just about respecting the families and their loved ones," Arambaru said. "We'd prefer people just stay safe and not go around the steps. People think it's our property, but it's really the Elks' property, and people haven't really been involved with it in forever."
Though Arambaru discourages visiting the steps, she is well aware of the lore surrounding them.
"I've lived in Spokane my whole life and everybody knows about the thousand steps," Arambaru said. "And Greenwood itself is supposedly one of the top 10 most haunted cemeteries in the United States, so we hear that a lot too."
Greenwood is located at 211 N. Government Way. The cemetery is large, so navigating to the steps can be difficult. They sit on the north end of the cemetery directly across the street from the Riverside Memorial mausoleum. Greenwood is open daily from dawn to dusk.
Jonas Bears is a staff writer.
.