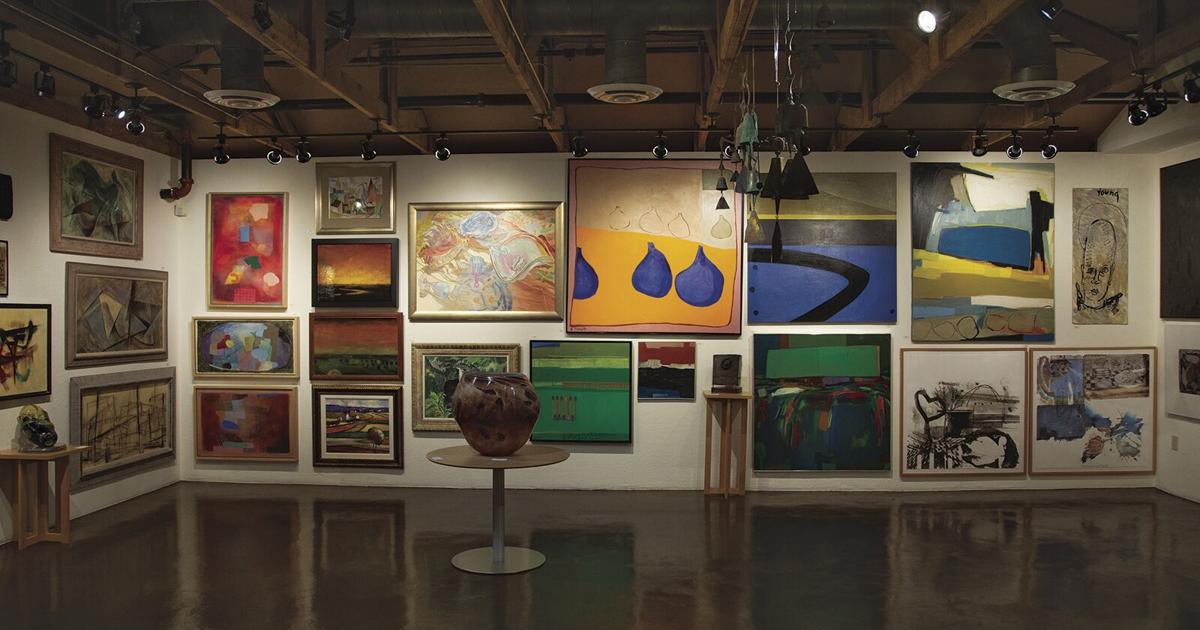 Larsen Gallery's annual fall auction is set to kick off Oct. 22 and this year's pool of 400 lots has gallery co-owner Polly Larsen anxious to get the bidding going.
This year's lots include works by big names like Jean-Micheal Basquiat, Edward S. Curtis, Dale Chihuly, Keith Haring, David Hockney, the Maulthrop family, Ed Mell, Fritz Scholder, Paolo Soleri, Rick Wolfryd and art and furniture from the estate of Fred and Gail Tieken, who both passed away last spring.
"There's a lot of interest in a lot of different things, which is great because what's so great about our auction is we have things that are 500 to $1,000 and things that are $50,000 to $70,000, so a lot of people can play," said Polly Larsen.
The auction draws heavily from the sale of the Tieken estate.
"They were pretty major collectors and we probably have about 60 lots from them," Larsen said.
Among those lots are two pieces that Fred painted himself and the their sale for a combined total of between $800 and $1,500 will be donated to the Scottsdale Museum of Contemporary Art.
"We actually suggested it for the estate executor because they were active with SMoCA and we thought it would be a good opportunity to get Fred's name out there as an artist," Larsen said.
"He showed at the Royse Gallery over on Main Street and he had some galleries in Venice Beach and Marina del Rey, where he lived at a second home, but we just thought it would be good to get his name out there and to have the proceeds go to a charity," Larsen explained.
The estate also included two pieces by Keith Haring valued between $20,000 and $30,000 and several pieces of furniture.
However, those are just the tip of the iceberg.
The auction will be selling a piece by David Hockney that pokes fun at anti-smoking ads.
There is a chair shaped like a hand created by artist Rick Wolfryd and decorated by members of the Huichol tribe that is on the market for between $3,000 and $5,000.
Larsen said that she has noticed a great deal of interest online in a glass cube made by Jon Kuhn that is also listed between $3,000 and $5,000.
Glass pieces created by celebrity artisan Dale Chihuly, wind chimes made by famed artist and former Valley resident Paolo Soleri and woodwork from three generations of the Maulthrop family have also been eyed, according to Larsen.
But the work that has already seen action has been a portrait called "Cabeza" by Jean-Michel Basquiat, which already garnered an absentee bid of $50,000, according to Larsen.
The auction also offers 28 works by western artist Fritz Scholder, that Larsen expects to be gone quickly.
"We'll sell them all, not only because (his work is) hot, but a lot of them are prints and they'll do really well," Larsen said.
The auction will be live-streamed on LiveAuctioneers.com and Invaluable.com but Larsen also expects to see people coming in and out of the gallery.
"It kind of just depends on the time of the day, but sometimes it's packed in here and other times it's half-packed. It just kind of depends on the lots and what's happening," Larsen said.
The other bulk of bidding typically comes via phone. Larsen executed 700 telephone bids during its spring auction and expects to see around the same number of bids.
All told, the Larsen Auction expects to sell 95% of its 400 lots.
If You Go:
Larsen Art Auction
When: 10 am Saturday, Oct. 22
Where: Larsen Gallery, 3705 N. Bishop Lane
Admission: Free
Info: www.larsenartauction.com,
Invaluable.com and
LiveAuctioneers.com
.