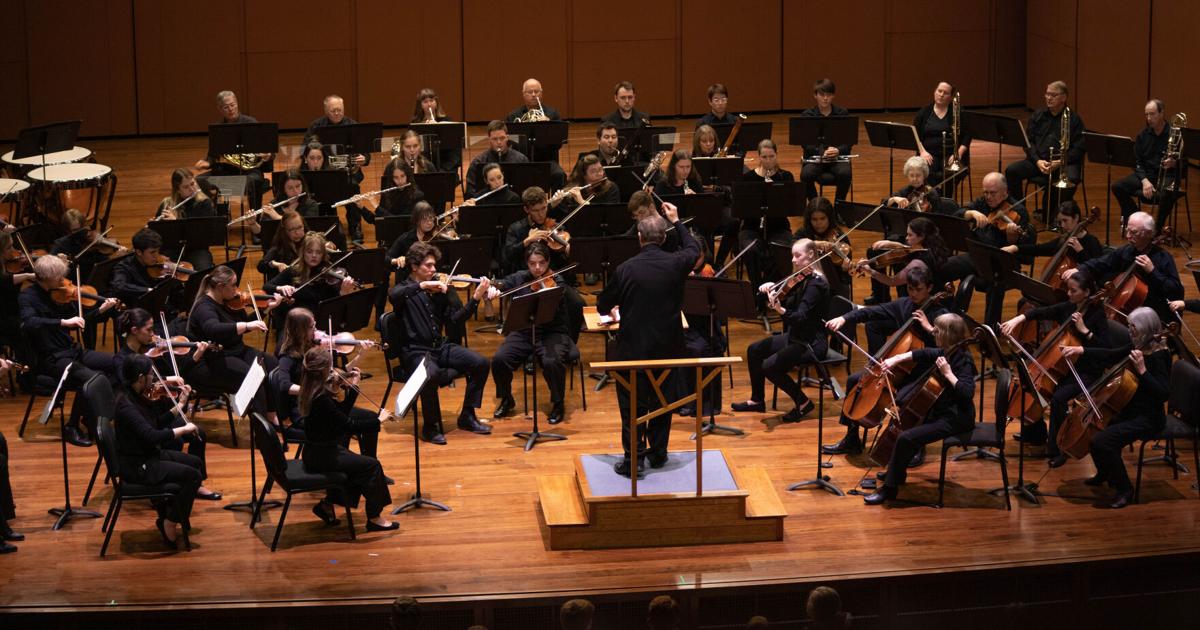 The Gonzaga Symphony held its first concert of the fall season on Monday at 7:30 pm, in the Myrtle Woldson Performing Arts Center. The concert was conducted by Gonzaga University faculty member Kevin Hekmatpanah and featured solos from husband-and-wife duo Jason Moody and Earecka Tregenza Moody.
The symphony is made up of GU students and faculty, as well as members of the local Spokane community; many of these members of the local community are GU alumni who now play in symphonies across the Inland Northwest. Conductor Hekmatpanah finds the band's strength to be in the multigenerational makeup of the group.
"It works very well because it allows us to do these grand works," Hekmatpanah said. "It also is a way for younger [players] to work with older [players]and for older [players] to be inspired by younger [players]. What's really nice is that there have been a number of students who have graduated … and they now play as community members, whereas they were once students."
One such community member was soloist Moody, who also soloed with Gonzaga Symphony when he was in seventh grade, meaning his and Hekmatpanah's working relationship dates back to 1994. Moody is now a GU faculty member in the music department, and he spoke about the benefits of being able to play with both community orchestra members , as well as his students.
"I'm really looking forward to being able to collaborate with the orchestra with [Hekmatpanah] conducting," Moody said. "It's so much fun and it's always a great treat to be able to play with a full orchestra … and also to be able to share the stage with most of my students … this is the first time I've soloed with an orchestra where most of the violinists are my students."
After the tuning of the instruments and the dimming of the lights, the crowd at the Myrtle Woldson was dazzled by the sounds of the Gonzaga Symphony. The concert opened with Tchaikovsky's "Symphony No. 6 in B Minor." Hekmatpanah spoke on the selection process behind this piece.
"It's a pretty profound and intense piece, and a real tour de force for the orchestra," Hekmatpanah said. "I wanted to open the season with one of the great masterpieces that would challenge the orchestra and really be something special. That's why I chose Tchaikovsky."
Harpist Tregenza Moody's solo had the crowd at the Myrtle Woldson transfixed. Moody played a piece by Debussy titled "Sacred and Profane Dances". Tregenza Moody's solo was one of contrasts, featuring both quiet, pensive lulls, plus grand, sweeping crescendos.
Moody's solo piece was Ravel's "Tzigane," which began with rapid musical movements. Both soloists were responsible for selecting their respective pieces. Moody spoke about his reasoning for choosing the specific piece.
"The piece is really fun and really wild," he said. "It's kind of wild, over-the-top playing. It's technically really challenging. There's all sorts of technical hurdles, just kind of one after another; it's a really fun interaction with the orchestra, because it has the orchestra doing these fun – but also kind of strange – atmospheric effects, where the orchestra is also doing harmonics, so it makes a sort of otherworldly sound."
The end of the concert was met with thunderous applause and standing ovations from the audience. As the performers and conductors received their plaudits, there was a triumphant feeling within the ranks of the GU orchestra.
With the start of the concert season underway, Hekmatpanah is ready to look ahead to future concerts, emboldened by a return of crowds.
"It's so great to feel as though the pandemic is past us," Hekmatpanah said. "Last year was a real transitional year, a kind of rebuilding process … it was difficult to come out of a year of hiatus. Now I feel as though the orchestra has returned to where we were before the pandemic, and hopefully the audience will also return, and really get a full season … I'm really excited that this is our first back-to-normal season."
The Gonzaga Symphony will host its next concert in the Myrtle Woldson Performing Arts Center on Dec. 5. Internationally famous violinist Shlomo Mintz will be playing as a soloist in this concert.
Zach White is a staff writer.
.