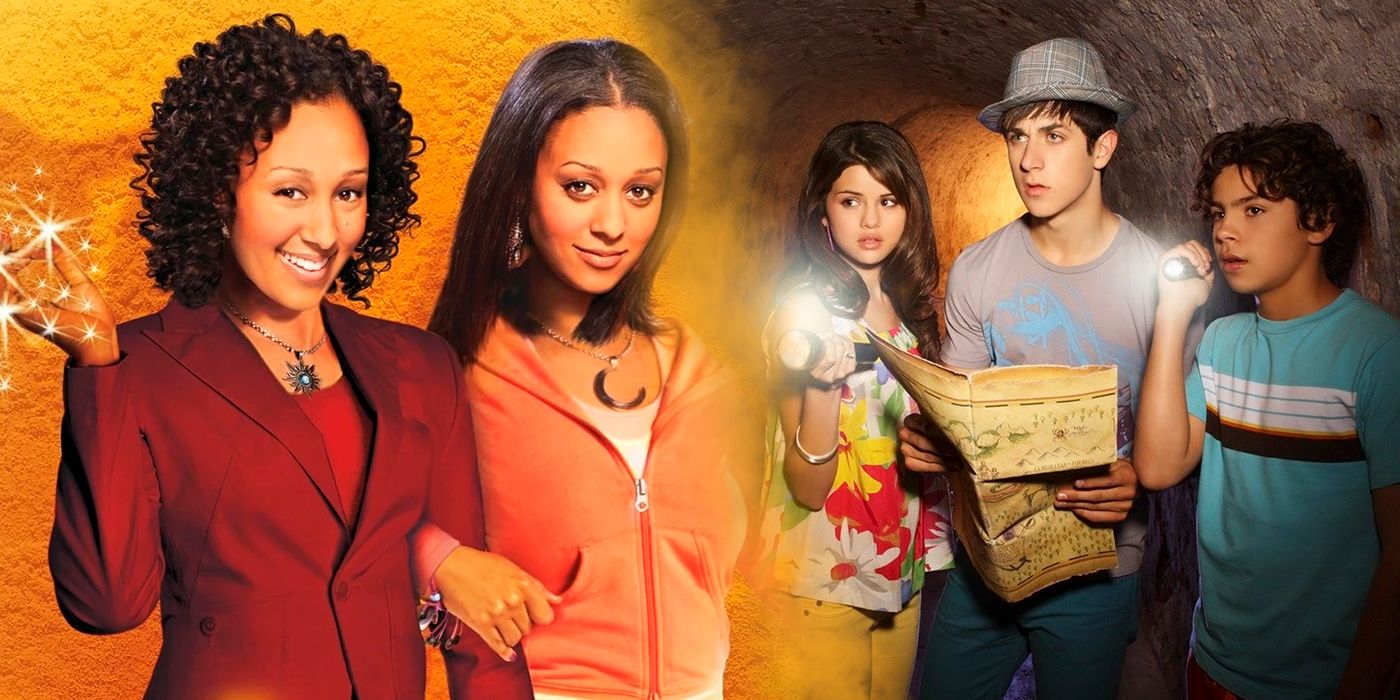 If there's any kid's TV network that knows how to celebrate Halloween in style, it's Disney Channel. From the tradition of all its TV shows having a Halloween episode each season to producing hit original movies all about Halloween, Disney Channel knows how to make the spooky holiday a family-friendly occasion. Over the years, the tradition of Halloween episodes and movies has died down slightly, but there are still all the classic Halloween movie options for families to enjoy this October.
Nothing truly beats the nostalgia of a Halloween-themed Disney Channel Original Movie (DCOM). From classics like halloween town to modern hits like ZOMBIES, there are plenty of DCOMs to watch this Halloween. Not only do these DCOMs bring a bit of spookiness to family movie night, but viewers can also glean deeper moral lessons on individuality, self-discovery, self-confidence, familial love, and acceptance of others from them. A list of the best DCOMs for families to watch this Halloween follows.
RELATED: Hocus Pocus 2 Shows the Dangers of Idolizing the Wrong People
The Halloweentown Franchise Explores Family and Acceptance
halloween town is one of Disney Channel's most beloved spooky franchises. The first three movies follow a young girl named Marnie (Kimberly J. Brown, later recast with Sara Paxton in the final movie). On Marnie's 13th birthday, she learns that she's a descendant of a family of witches, and she discovers a secret portal to Halloweentown, a world where ghosts, ghouls, witches, and werewolves live freely apart from the human world. Halloweentown was originally founded after the human world had ostracized all the magical beings for being too scary and different, teaching viewers a deeper moral lesson about accepting others despite their differences. While Marnie begins her training as a young witch, she also battles many evils that face Halloweentown, including ancient curses and wicked warlocks.
Twitches and Twitches Too Are a Journey of Self-Discovery
Twitches and its sequel, Twitches Too, follow twin witches (Tia Mowry and Tamera Mowry) who were separated at birth and adopted by two different families. They have lived their whole lives free of magic and unaware of their powers. On their 21st birthday, they meet for the very first time, and their magic is released as well. An ancient prophecy states the twins are the only ones with enough power to vanquish the Darkness from destroying Coventry, the magical world they were born in. In a journey of self-discovery that serves as an important reminder for viewers to believe in themselves, the twins must use their newfound powers to save Coventry from the Darkness and restore it to its former glory.
RELATED: NYCC: The Winchesters Cast & Crew Lean Into Paranormal Romance
The ZOMBIES Trilogy Is All About Acceptance
Tea ZOMBIES trilogy is full of deeper moral lessons about individuality and accepting others from diverse backgrounds. ZOMBIES seems like a modern re-telling of Romeo & Juliet for a Generation Z audience, following the love story of a human, Addison (Meg Donnelly), and a zombie, Zed (Milo Manheim), after teen zombies are allowed to join the humans at Seabrook High. Addison and Zed strive to break down the social barriers between humans and the zombies and to reunite all the members of Seabrook. Later on, in the movie trilogy, werewolves and aliens are also introduced to the ZOMBIES universe, adding to the moral lessons of accepting others with diverse backgrounds and celebrating everyone and their differences instead of ostracizing them for not fitting into the societal norm.
Wizards of Waverly Place: The Movie Emphasizes Family
Wizards of Waverly Place is pretty much entirely a series of Halloween-themed episodes because the show centers on three young wizards in training. The DCOM movie, based in the same continuity as the show, makes a great Halloween watch despite not being set during Halloween. Wizards of Waverly Place: The Movie follows teen wizard Alex (Selena Gomez), who is tired of her mother, Theresa (Maria Canals-Barrera), controlling her life. Alex inadvertently makes a wish that her parents had never met while holding a powerful wand, which, in turn, casts a spell to make her wish come true. In a heart-wrenching story teaching viewers about the importance of familial love, Alex and her brothers, Justin (David Henrie) and Max (Jake T. Austin), must find a way to reverse the spell to save their family from completely vanishing.
Girl vs. Monster Combines Monster Hunting With Self-Empowerment
Girl vs. Monster feels like Disney Channel's attempt at re-creating Hocus Pocus for a Generation Z audience and adding a ghostbusters twist to it. In this movie-musical, a shy teenage girl (Olivia Holt) accidentally releases a dangerous monster on Halloween. The girl has to let go of all her fears to re-capture the monster before it destroys her town and everyone she loves. Girl vs. Monster teaches viewers about the importance of self-confidence, although it could have done without the random High School Musical-like musical numbers, which distracted more from the plot than it helped to progress it.
All of these spooky and family-friendly Disney Channel Original Movies are available to stream now on Disney+.