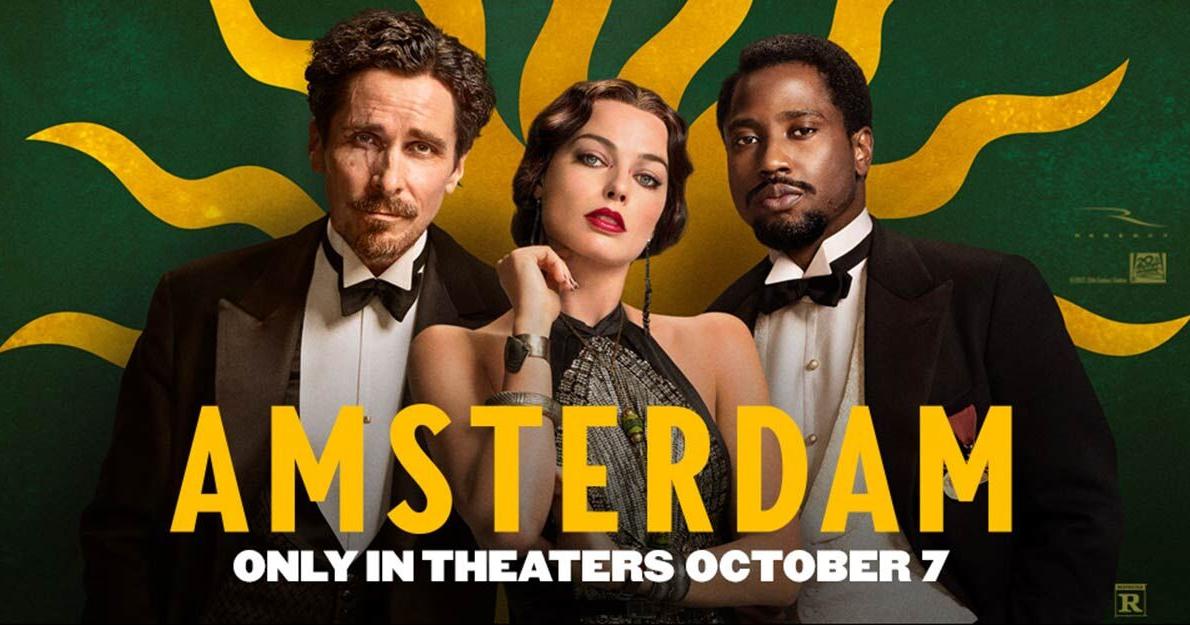 We all have that one film that forever changes us, and for me, it was David O. Russell's 2013 magnum opus, "American Hustle". I still vividly remember the day I saw the film with my mother. We went to an earlier matinee screening at Meadowview Theater on a brisk, winter afternoon. It forever changed the way I view film, and from that day forward, I knew I wanted nothing more than to make a career out of filmmaking.
Fast forward nine years and I am standing at the kiosk of my local Cinemark, eagerly awaiting to purchase a ticket for Russell's latest cinematic endeavor, "Amsterdam". I hear the reviews are awful and my best friend was gravely disappointed, yet I remain optimistic. Ticket in hand, I enter the darkened auditorium, find my seat and position myself comfortably as I prepare to view the latest from one of my biggest inspirations. An excruciatingly painful two hours later, the film finally ends and my worst fears come to fruition.
Set during the 1930s, the film follows an idiosyncratic doctor (Christian Bale), his trusty wartime friend and lawyer (John David Washington) and an eccentric nurse (Margot Robbie) as a peculiar trio who stumble upon a murderous conspiracy involving a slew of characters across a bizarre, somewhat fictionalized American history. Or at least that's what I think the film is about. Honestly, I couldn't tell you for certain what even happened during the meandering, slog of a runtime.
I am utterly flabbergasted at the sheer lack of competency that is demonstrated both on and off-screen in "Amsterdam". This has to be one of the biggest misfires in recent memory. The ensemble consists of some of the greatest actors of their generation with the likes of Robert De Niro, Michael Shannon and Anya Taylor-Joy, and cinematography by the esteemed Emmanuel Lubezki, yet these combined talents amount to nothing in the end. Ultimately, Russell's bewildering, pretentious script and lackluster direction pave the way for an immeasurable disappointment.
I shall give credit where credit is due, and that goes in large part to the staggering, period-authentic sets and costumes which are sure to make any history buff salivate in finicky awe and excitement. These stunning sets and costumes are all photographed beautifully by the effortlessly talented Emmanuel Lubezki, of course, who truly elevates the film. Christian Bale is another strong highlight within the excruciatingly long, drawn-out runtime, who delivers a fascinating, unorthodox performance you cannot look away from. Those, however, are where my praises begin and end.
It's amazing to see such brazen ineptitude from a revered filmmaker. From the gratuitous continuity errors that had me audibly sighing and rolling my eyes, to the laughably incompetent sound design and mixing, I wanted nothing more than for the film to come to a grinding halt and conclude. No amount of cringe humor or pretty makeup can polish and save this unmistakably tedious film.
It's not necessarily the worst film I have ever seen (certainly not the worst of the year) but it's shockingly misdirected and lacks little-to-no redeeming qualities aside from elements of production design and cinematography. The star-studded ensemble is mostly flat and dull with John David Washington and Taylor Swift, in particular, leaving a significantly poor taste in my mouth. I expected so much more from such a gifted filmmaker.
I cannot say for certain what exactly went wrong with "Amsterdam", but it's surely a film I will only remember in vain. Here's to hoping that Russell is able to rebound from this misfire and construct a well-needed return to form with his next cinematic endeavor. 4 exhausting sighs out of 10.
The views expressed are those of the writer and do not necessarily reflect those of The Torch.
.