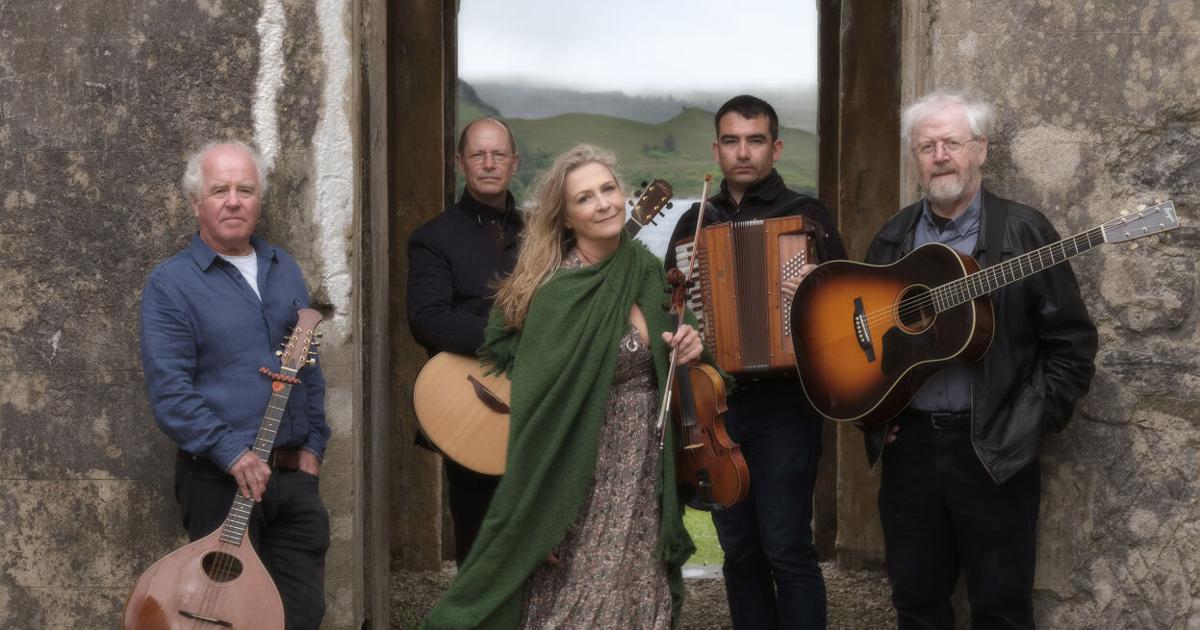 THE HOTTEST GROUP iN THE CELTiC REALM WILL PLAY SONGS FROM ITS NATiVE IRELAND
Celebrated in the music world for being one of the most popular groups in the Celtic realm, Irish folk band Altan has a spirit and sound that derives from the deep and rich musical tradition of its native Ireland.
The band's roots can be traced back to 1987, when fiddler/vocalist Mairéad Ní Mhaonaigh and her husband, the late flutist Frankie Kennedy, co-founded the group with bouzouki player Ciaran Curran, and released a self-titled album that was very well received .
A second album, "Horse with a Heart" also found success, and Altan's string of achievements continued with the 1993 release of "Island Angel," which was recognized by Billboard World Music Charts as the second-biggest selling world music album globally.
Over the past 35 years, Altan has established itself at the forefront of traditional Irish music and made a lasting impact on audiences and music lovers throughout the world.
Today, Mairéad and Curran are joined by Martin Tourist on accordion and guitarists Mark Kelly and Dáithí Sproule.
Altan will be headed to The Barns at Wolf Trap on Oct. 27 for an 8 pm show.
"We play traditional Irish music, and we will have a lot of Gaelic songs and a lot of fiddle music, which Donegal is famous for," Mairéad said. "Being traditional, we don't freeze it with any other types of music. We play pure Irish traditional music."
Some of the tunes on the night will include "2 Highlands + 2 Reels," the rousing "Dark Haired Lass" and the Robert Burns classic, "Green Grow the Rushes."
"These aren't songs that everyone just knows—they aren't top 10 sort of things, but people who listen to us will know what we play," Mairéad said. "There are key changes to augment the different tunes and people really respond to us. People who know our music really well will understand."
Altan was supposed to perform at Wolf Trap during 2020, but the pandemic forced the group's entire tour to be canceled, and this is in fact the third time the tour has been rescheduled, and Mairéad is thrilled that it's finally happening.
"We'll be touring for five weeks and everyone is really excited about it," she said. "We go to the states maybe twice a year, but the lockdown changed that, and we miss our friends—the people who come consistently to see our shows. We love the states because it's such a vast country and so different. We go from the lakes of the Midwest to the beautiful Arizona desert, and then you see the lush greens of Seattle. We always enjoy that and the different characteristics of the people."
For this tour, Altan will be bringing along a young fiddle player named Clare Friel, who was chosen as the Young Traditional Musician of the Year in 2018 in Ireland.
"We want to showcase the young generation and how they are bringing the music along," Mairéad said. "We like to encourage them and I feel that's an important part of what we do. We want to bring them along and give them a stage to play on by hosting them on the tour."
This year, Altan has released a new book that consists of 220 of the band's tunes in written form, and those will be available at the venues on the tour.
"A lot of people who are interested in Irish music buy them to learn the background or may be just starting a new instrument and want to explore the songs further," Mairéad said. "We give a very comprehensive background to all the music we played over the years."
Altan is currently working on a new recording, which is nearly finished, and hopes it will be released this winter once the tour is over.
"If people are interested in pure Irish music, this is what you come out to see," Mairéad said. "I sing in the Gaelic language, and a lot of people are very interested in that and it's very encouraging to see that people find beauty in that."
For tickets or more information, visit www.wolftrap.org.
.