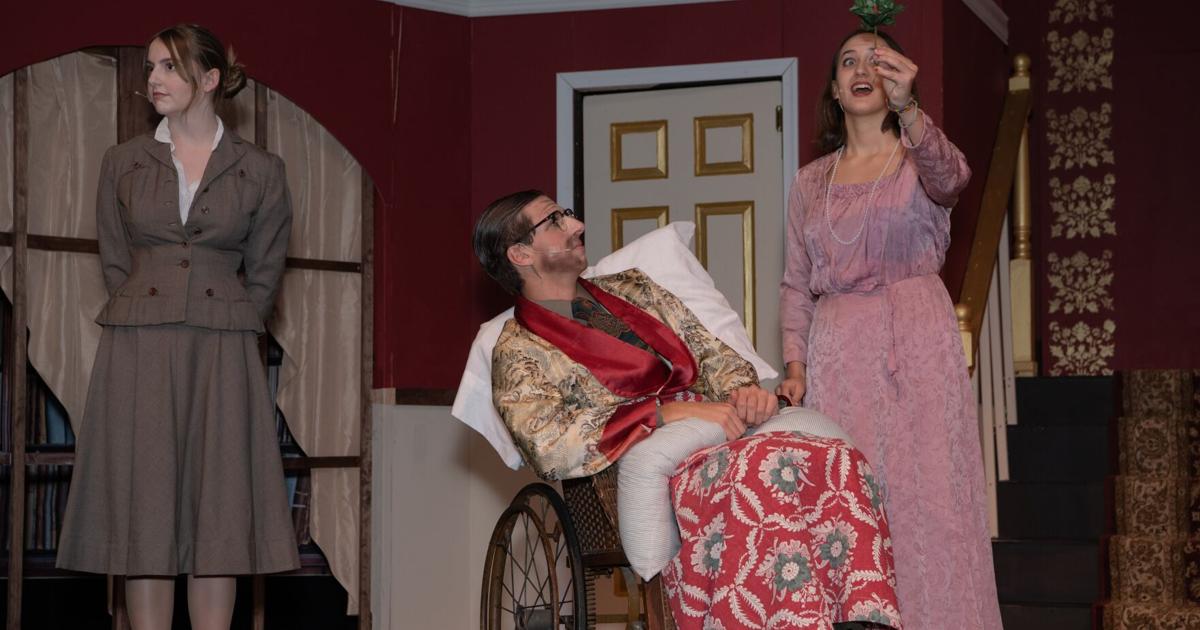 It's not even Halloween yet and Langley High School is already pulling out all the Christmas decorations for their production of The Man Who Came to Dinner. Langley's production of "The Man Who Came to Dinner" was a stunning success. Despite having originally debuted nearly 83 years ago to this day, the cast did a remarkable job of making this period piece feel as if it were made for today's day and age.
The story begins when Sheridan Whiteside, an abrasive NYC radio host, arrives for dinner at the Stanley household. However, when Whiteside walks up the front step he slips on ice and insults himself. During his stay Sheridan commandeers the home and makes it his own. Consequently hubris, high jinks and heartbreak run rampant as a lovable cast of eccentric characters visit Sheridan.
If the show was a 3-course meal, the appetizer and one of the most delectable aspects of the play was the host of visitors that brought so much life to each and every scene. Some notable moments include Nick Kristensen with his well-timed entrances and exits as Dr. Bradley, the comedic but charming powerhouse that was Brady Kastner's character, Banjo and Ethan Bhatia's genuine and real performance as Bert Jefferson, which perfectly balanced out the oddity that was happening elsewhere onstage.
The main course of "The Man Who Came to Dinner" would have to be Conor Farah and his portrayal of Sheridan Whiteside. Sheridan is omnipresent on stage; it was a marathon of a performance and Farah managed to not only remain in character but become the character during each and every moment. This is not the only challenge Farah was forced to work through. Sheridan spends the majority of the play in a wheelchair, consequently Farah does too. However, Farah's mastery of not only moving but acting with the wheelchair was phenomenal, he became an extension of himself. Despite playing a character that can best be described as atrocious, at times there were levels of nuance to Farah's performance. The relationships & emotions between the characters were palpable and heartwarming.
The final course in this three-course meal is most definitely the character Maggie (portrayed by Sarah Hilton). Hilton's dynamic with each and every actor was superb. Hilton matched the energy and paired well in each and every scene she was in. In addition to Maggie being a chance for Hilton to show off her skill as an actress Maggie was more a chance for the technical designers to display their innovation as well. Maggie's costume (headed by Logan Dooley) and hair (headed by Lily Bowers) evolved alongside her character to perfectly match the emotional changes and growth that Hilton created onstage.
But what is a meal without a mention of the China that it is served upon? Langley brought out his best for this delicious performance. The technical aspects were simple yet sophisticated and elevated the performance to new heights. The set (designed by Jillian Korchnak & Stella Wang) was a work of art. Each door felt unique and had its own purpose and the set dressing had the perfect amount of clutter to create what can only be described as a home rather than a house.
Through and through The Man Who Came to Dinner was a delightful performance worthy of a Michelin Star. It was relatable, charming, and full of laughter and holiday spirit. You can't blame Langley for pulling out the Christmas lights this early, with a performance this good, who wouldn't.
.