Daryl Morey is not like any other NBA Team President.
Just hours before the Philadelphia 76ers were to tip off their new season on Tuesday, Morey actually took a phone call from a rando arts columnist in Denver. To talk about theatre. Over the next half hour, he twice apologized for having to break away from the call to attend to urgent hoops business, like the negotiation of a possible free-agent signing that was playing out in real-time as we were conversing. But, get this: He called back both times.
NBA team presidents don't take calls from rando arts columnists in Denver — much less call them back. Twice.
Then again, NBA team presidents don't generally support the making of live theater, much less hilariously weird live theater like "Small Ball," a new indie musical that an adventurous little local theater company called The Catamounts is opening next Sunday (Oct. 30) at Denver's Buntport Theater.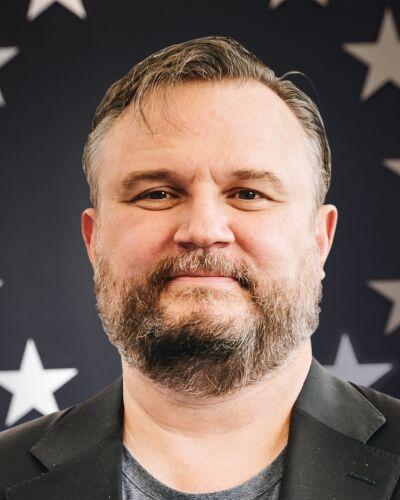 Morey is the "commissioning producer" of "Small Ball," which he honestly believes has Broadway aspirations. Then again, he can afford to think big. He runs a team that entered the 2022-23 season with a player payroll of $149 million. (Not so small ball at all.)
"I am incredibly proud to be a part of this musical, and I just want the most people to come see it as possible," he said.
In other words, Morey is exactly the kind of unicorn the arts world needs more of.
"Daryl is this huge figure in professional basketball, and yet, what he really wants to do is help this small theater company in Colorado produce this wild and whimsical musical," said The Catamounts Artistic Director Amanda Berg Wilson. "Whatever early love he had for music and theater has stuck with him — and he is really making things happen in the arts."
Morey, a lifetime musician and proud theater nerd, grew up in Medina County, Ohio, about 30 miles south of Cleveland, where he attended a cliche-ridden high school straight out of "The Breakfast Club." He was an anomaly, starring on the basketball team while also jamming in Honors Orchestra, playing the trumpet, keyboards and euphonium. A highlight of his high-school life was playing in the pit for the school's massive production of "Les Miserables."
"I have always loved theater, but there were very high divisions in my school," Morey said. "You didn't really cross over from your group much. I was actually more welcomed by the theater group than the sports folks. You had to hew through the norms a lot more than people do now."
Morey has been equated to the Billy Beane ("Moneyball") of hoops, using deep data dives to revolutionize the modern NBA. But as Morey was building up a professional record that now stands as the fourth-best in NBA history among executives with at least 1,000 games of experience, he never abandoned his love of the arts. During his previous stint as the general manager of the Houston Rockets, he was also a board member for a company there called The Catastrophic Theatre, whose mantra sounds like a sports team's: "We Will Destroy You."
That's where, in 2017, Morey put his artistic sensibilities — and his money — into the concept of "Small Ball," written by playwright Mickle Maher ("There is a Happiness That Morning Is") with music by Anthony Barilla and Merel van Dijk , whose tastes align with former collaborators like the schizophrenic genius Daniel Johnston and Pixies frontman Frank Black.
"Small Ball" began when the head of that Houston theater company asked Morey, "What about a basketball musical?" and it wasn't hard to get him excited. Maher, himself an avid basketball fan, leapt at the chance to write the script.
"I feel fortunate to have met Mickle Maher, who was clearly coming up with something so amazing and creative that I felt honored just to be involved," said Morey, who didn't just write a check and take his seat on the sidelines. He rolled up his sleeves and implemented the next phase of the creation process in exactly the same way he prepares the 76ers for the annual NBA draft of the year's top college players.
Here's how it went down: Morey and Maher invited five teams of composers to apply for the job of writing the music.
"We hired each group to compose one scene each," Morey said. "And we paid them all for their work, because I fully believe in paying artists."
Then Morey, Maher and a few other members of the core creative team independently ranked each contestant — just like making a list of your five top draft picks.
"You'd be surprised how different our lists were," Morey said, "but the whole process ended up being overkill because (Barilla and van Dijk) stood out."
The musical premiered to a sort of confused enthusiasm in Houston, but one thing was clear: No one had ever seen what Morey calls "a non-musical musical" like this one before. That is, unless you know of another musical that riffs on both Scottie Pippen and "Gulliver's Travels" and features basketball players who are six-inches tall.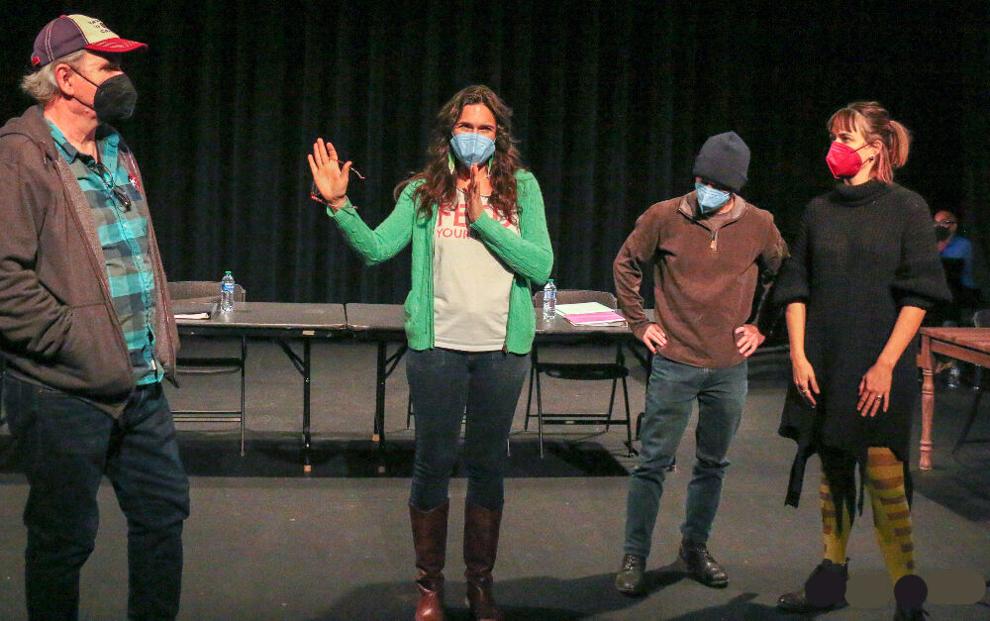 So what is 'Small Ball?'
The surreal and proudly absurd story revolves around Michael Jordan. (No, not that Michael Jordan.) This MJ is a melancholy journeyman who's found himself bouncing around various obscure international hoops leagues. He's recently become the star of the Lilliput Existers, who aren't doing so well, which is not surprising considering the basketball is bigger than the players. Like his namesake, this Jordan is a total ball hog, but cut him some slack: "The reason MJ won't pass the ball is because doesn't want to crush his teammates," said Morey. "It's a nod to Michael Jordan being criticized early in his career for never passing, but it's really a metaphor for a guy who is not engaging with the world." And it shows on the scoreboard.
You think Nathaniel Hackett has it tough? Imagine what these post-loss press conferences must be like. The playwright does, to great comic effect, having all kinds of fun with that essential and universal yet uniquely strange sports ritual.
"Imagine you are giving a sales presentation to a company — and immediately after you fail at that sales pitch, you are escorted into another room where you are asked to explain to a room full of people exactly why you just messed up," Morey said . "That's a pretty rare thing in life.
"We had many NBA players come to see the play in Houston, and those press-conference scenes just broke them up laughing."
But you didn't have to be a basketball insider to get the humor of "Small Ball," Morey said, because in the end the play is really about more than basketball. More like the love of basketball.
"I think it's amazing to be able to celebrate the sport without it having to be 'Hoosiers,' " Berg Wilson added.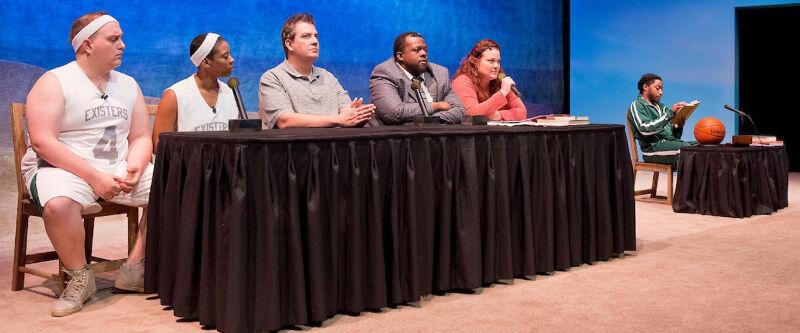 follow the bouncing ball
Morey will be in Chicago with his team on Saturday night, but he plans to arrive in Denver in time for the play's opening performance at 4 pm Sunday at the Buntport Theater. He believes in the play that much. And he believes in The Catamounts, which he said was also a carefully curated choice for the second company to stage the story, which is directed here by former Creede Repertory Theater Artistic Director Jessica Jackson.
Morey's team is looking at this Denver run as the next step in a creative process that can take many years to complete. But he's not shy about proclaiming his ultimate aspirations.
"I am very biased, but 'Small Ball' is better than some of the things I've seen on Broadway, so I will be bold and say yeah … maybe Broadway someday. We'll see."
So why Denver first? And why The Catamounts?
"I just want passionate theater people involved in this project," Morey said. "We spoke to several theater groups, and The Catamounts really stood out as people who know how to tell a story."
As Berg Wilson recalls: "Daryl said to me: 'I've done just about everything with my life that I have wanted except win an NBA championship. I just want to make cool things happen with cool people and make the world a better place – and that is why I am working in the theater."
Forget that unicorn. Morey is about as rare as a real-life Lilliputian. If only every arts organization could somehow find one.
.