news | | feature | | preview | | event
Bob Makin
First Published: October 7, 2022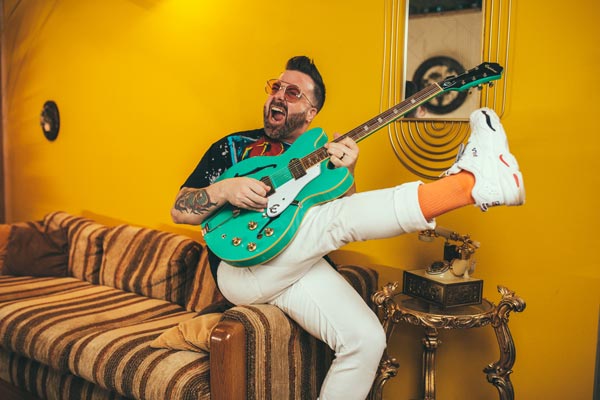 Lou Panico's is the Makin Waves song of the week. Lou will play his two sets at Asbury Park's Wonder Bar on October 7th. One person performed as a soloist. The other will play bass in the band of Natalie Farrell, the headliner's wife.Photo by Joseph Flannery
Asbury Park rocker Lou Panico has reportedly stuck with the title of his latest single 'So Damn Happy'.
Hopefully, he'll be even happier that a KISS-inspired song is Makin Waves' song of the week. But the song is much darker and deeper than the title implies.
Makin Waves' song of the week, "So Damn Happy," can also be heard on October 7th from 6-8pm on Radio Jersey at: ThePenguinRocks.comIf you missed it, you can always watch it in The Penguin's archives or MixCloud.
"'So Damn Happy' was inspired by all the KISS we were listening to during the pandemic lockdown," Lou says. "When the world shut down, I found myself rediscovering the entire KISS discography. I wrote lyrics that were pretty easy to hurt. I lost her mother a few years ago and her death really shook my family and me. The song addresses the dramatic difference between what family meant to me as a child and what it means to me as an adult. It will change. But despite the weight of the lyrics, I wanted to express how much my family makes me happy and the importance of a supportive family dynamic. So I upped the tempo and added a hymn to the chorus to keep the listener smiling. "
Click here to advertise on the New Jersey stage for $50-$100 per month.
---
Lou recorded all the instruments in his songs and played them all except the drums. This was handled by Wild Americans' Mike Neguria.
The track was mixed by Chris Badami of Portrait Recording Studios and mastered by him from 1/2-inch tape for more of an old-school analog rock-and-roll feel, says Lou.
"In the ever-growing digital world, it's important to maintain analog recording processes," he said. "I'm working on my next album and I'm committed to keeping my music as authentic as possible. Real instruments, real players, real rock and roll."
The first single from the next album was "Heard A Song".
You can hear other new Lou songs at Asbury Park's Wonder Bar on October 7th. There he opens the opening, playing bass for his Natalie Farrell, the headliner's wife. After years of collaborating with Levi on his Oken and his two bands, Lou is "very happy" to partner with the talented and gorgeous Natalie in both his life and his singing.
His other upcoming shows are October 13th at Grace O'Malley in Jersey City and November 5th at The Asbury Hotel.
For more information, see: https://instagram.com/loupanico.
Bob Makin has produced Makin Waves since 1988. on facebook please contact bob makinwaves64@yahoo.com.