NEWS | FEATURES | PREVIEWS | EVENTS
By Joe Makoviecki, singer/songwriter & guitarist of Jackson Pines
originally published: 10/27/2022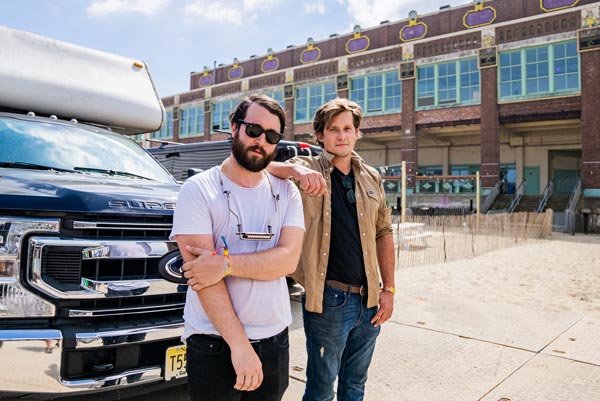 On Saturday, November 5th, my band Jackson Pines will headline the Stone Pony in Asbury Park, NJ for the first time. We're super excited to bring our band and a few of our friends to play with us that evening, and Gary at NJ Stage has allowed me to tell you about the night in my own words. Far from being the first time we've played there, it is the first time we've been invited to curate the night's acts and anchor the evening with our music.
We will have Cranston Dean, Sean Tobin & The Boardwalk Fire, ourselves, and a special final set by Alexander Simone & WhoDat? LiveCrew.
Growing up in Jackson, about a half hour from the Pony, James Black and I have seen the Pony and Asbury Park in many incarnations. When we were teenagers, we would both play matinee shows on Sundays in our different bands. James was in punk rock and soul rock bands and I was in emo and indie rock bands. We'd sometimes play there together, whether the audience was all parents and underaged friends who couldn't drink, or even if no one was there. It was how you paid your due and learned the ropes as a young musician. Back when your parents would drive you there and bring you right home after. Now the town is very different, but the soul and grit of the city is still there under the surface.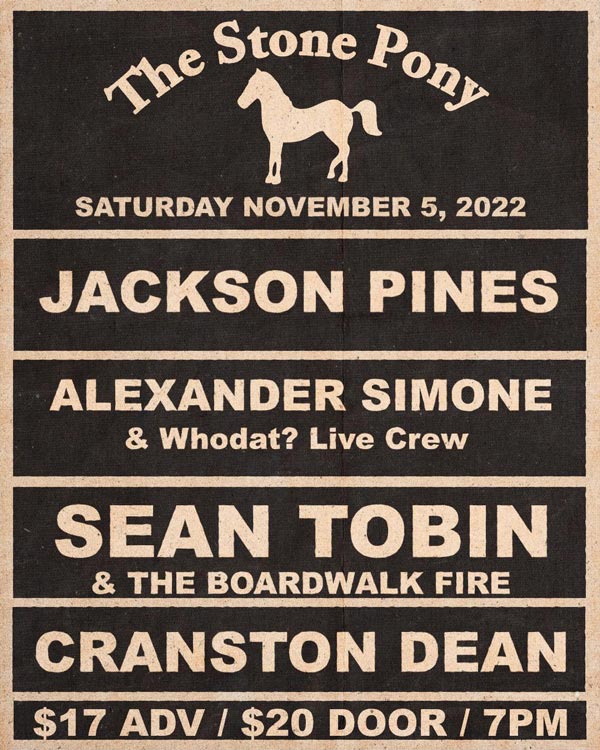 Years later when we started a band together named Thomas Wesley Stern, we had many special nights at the Pony playing at the Asbury Music Awards or opening for bands we admired and never thought we'd get to share a bill with years earlier: Nicole Atkins , Rhett Miller, Joe Pug, and The Infamous Stringdusters to name a few. The Pony always thought of us when the right show came and we learned so much of how to be a live band on stage in that room.
Now, in our current band Jackson Pines, we've continued to be tapped by booking to open for Band of Horses, and most recently Jason Isbell before his Summer Stage set this past September, when we got back from our Northeast tour. It felt good to be home. We always say if we were a basketball team, the Pony would be our homecourt.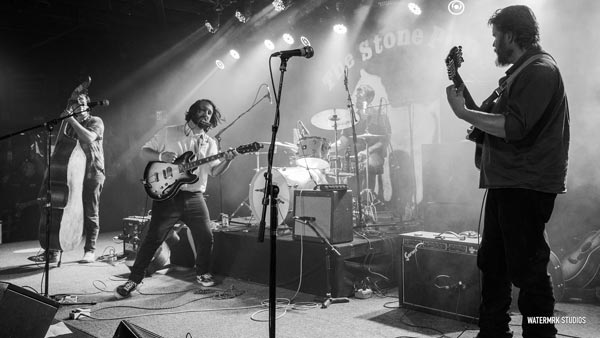 Advertise with New Jersey Internship for $50-$100 per month, click here for info
---
After that show, they contacted us and asked if we'd headline our own in November, and the rest just fell into place. After many years and many bands, we have our own night, and we'd love to see you there.
The Stone Pony also goes back in my family history, as my father, Tom Makoviecki, played there in the late 70s with his funk rock band Blvd. East (when they weren't playing The Fast Lane). So it feels fitting and special that we get to keep the family tradition going in our own way, playing our folk rock songs alongside some really killer bands, all right from either Asbury or the Jersey Shore.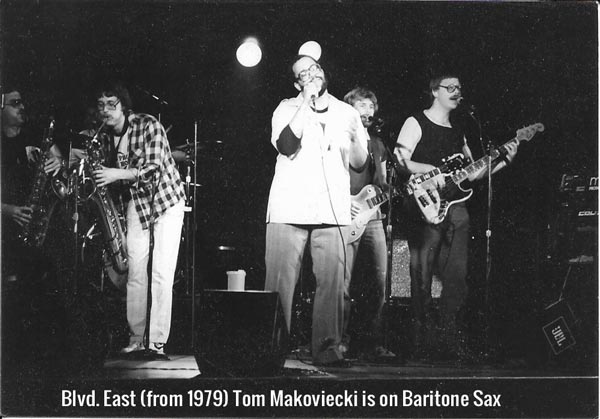 Cranston Dean not only helps us by playing drums, singing harmonies, and occasionally joining us on mandolin and guitar at acoustic gigs, he's also one of the most talented, soulful, and hard working songwriters I've ever heard, from any era. Local or worldwide. He plays first, so don't miss his set. It's mandatory.
We only met Sean Tobin this year, and played three great concerts together since June, but his songs are skillful, his voice is honest, and his band exemplifies true musicianship. Last time we played the Pony together we whipped it up, and he was only an acoustic trio that night. Can't wait to hear his full band on that sound system, in that room.
And after our set, we are delighted to have alexander simone (one of the grandchildren of Nina, yes, that Nina) and his incredible band Whodat? LiveCrew. They are going to end the night on a high note, with soul, rock, and heart. We have never shared a bill before and are super pumped to hand him the reigns after we play our headlining set, to take the night to another level.
Just last week, we were playing a concert in the woods in the Pine Barrens of South Jersey, where blueberries were first cultivated. About ten people came up to us afterward and said, "I've never been to the Stony Pony before, but I'm going to finally go to see you guys." There's just so much in New Jersey to love, especially when it comes to live music, that it's easy to overlook our treasures sometimes. Connecting people to their own home area and getting them to see more beauty in it is one of the perks of being a traveling independent musician.
And if you've never been to the Pony, you should come check it out, too. And if you have, you know why it's a national treasure.
Asbury Park was our musical incubator. As kids from the suburbs, all we had were basement shows and church halls. And don't get me wrong, we still play bases and church halls, and love it. But Asbury Park and The Stone Pony made us feel like a real band for the first time, before we were old enough to drive. How to play with monitors, how to stand on stage, how to be yourself but be a little more than that when the crowd is watching.
It fostered radical imagination that anything was possible, if you practiced enough, wrote your ass off, and played your heart out (and sold some tickets).
Asbury Park is more about connection than construction, more about crossing boundaries and welcoming folks in than shutting them out. And although it's changed a lot, the heart and soul is still there, just keep your ear to the ground and listen for the music. Folks from different sides of town are coming together, in the spirit of the musical collaborations that came before. Honeysuckle Rose was written by Fats Waller and Andy Razaf on Atkins Ave., Johnny Cash and June Carter lived atop the Berkeley Hotel in the 80s, the spirit of Bruce and Clarence's collaborations, beyond the borders of just music, still resound through the streets of Asbury Park and the halls of the Pony to this day. And it's still a place you can sing and play your heart out.
On November 5th, we'll just do that.
Advertise with New Jersey Internship for $50-$100 per month, click here for info
---
Tickets are $20 at the door, $17 online, but Jackson Pines and the other acts are selling tickets themselves for a discounted rate of $15 flat. Email the band at jacksonpinesmusic@gmail.com and they will directly sell you a ticket and put them in will call to be picked up upon entry.
TOP PHOTO BY Michael Kravetsky