NEWS | FEATURES | PREVIEWS | EVENTS
By Ilene Dube, JerseyArts.com
originally published: 10/21/2022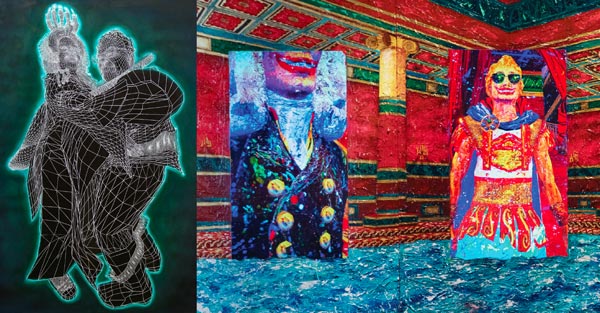 Photo: Federico Solmi's "Joie De Vivre (IX); Oprah Winfrey and Warren Buffett;" 2021; soft pastels, white pen and ink, gouache on wood panel; 60 x 36 x 1 in. (152.5 x 91.5 x 2.5 cm) [left]; and (a part of) "The Bathhouse;" 2020; five-channel video installation, acrylic paint and gold leaf on plexiglass, painted frames, LED screens, video loops; 9 min 46 sec / 72 x 240 x 4 in. (182.9 x 609.6 x 10.2 cm) [right].
In past visits to the Morris Museum, I have admired music boxes from the collection of mechanical instruments. Viewing Federico Solmi's Joie de Vivre, on view at the Morristown-based museum through Feb. 26, I felt as if I were inside a music box.  
Enormous video-based works of art, each accompanied by its own soundtrack, fill the walls of the gallery space. A wall of windows looking out onto the autumnal foliage of surrounding mountains provides a peaceful respite among the cacophony – and one can benefit from a bit of respite, after viewing conquistadors in tricornered hats, bayonet at the ready, high on horses with coiffed manes, sporting the grin of greed.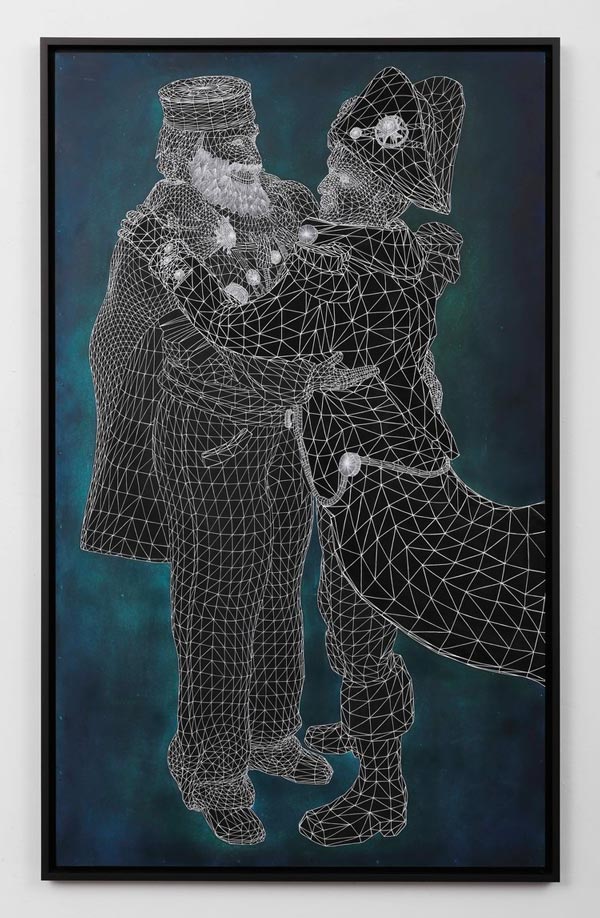 Federico Solmi, Joie De Vivre (XVIII), Giuseppe Garibaldi and Napoléon Bonaparte, 2022. Soft pastels, white pen and ink, gouache on wood panel. 60 x 36 x 1 in. (152.5 x 91.5 x 2.5 cm) (photo courtesy of the artist)
This multimedia exhibition "examines the absurdities of the human experience through the lenses of colonialism, nationalism, religion and consumerism" from the "perspective of a cultural voyeur," say the exhibition materials. The words used to title the works of art offer further clues into Solmi's video-based world: Bacchanalian, debauchery, bathhouse. 
Advertise with New Jersey Stage for $50-$100 per month, click here for info
---
Joie de Vivre was slated to open more than three years ago, but was pushed back by the pandemic – perhaps making it even more relevant to our times. Exhibition organizer and assistant curator Michelle Graves inherited the project from the museum's former director and curator, who discovered Solmi in an exhibition at Rowan University. "It perfectly fits the museum's mission of art, sound and motion," says Graves.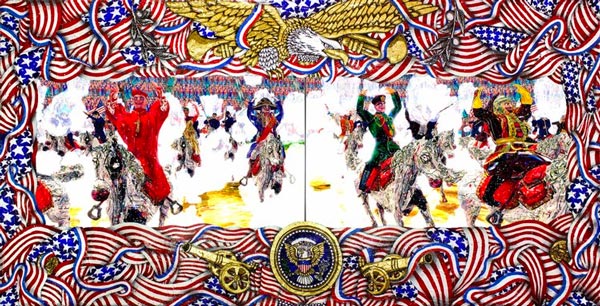 Federico Solmi, The Grand Masquerade, 2018. Acrylic paint, gold and silver leaf on plexiglass, LED screens, video loop. 2 min 56 sec / 48 x 96 in. (122 x 244 cm) (photo courtesy of the artist)
Joie de Vivre – that's something we could all use a bit more of in these dystopian times. Yet the phrase is used sardonically here, where Julius Caesar, George Washington and the Pope are mockingly portrayed. "Every depiction is a raucous display," says Graves. "It's a parade, a grand party." It's about the abuse of power. 
The artist honed the joie de vivre concept when reading Italian journalist Oriana Fallaci, who wrote: "There's something missing in all writings about power. Very few are able to capture how funny it is. When historians and political scientists examine the horrors that power commits, the suffering it imposes, the blood with which it stains itself, they always forget to highlight the ridiculous aspects of the inevitable monsters and how funny they are, with their ironed uniforms, their unearned medals and their invented awards." 
Building off such games as Grand Theft Auto and Half-Life 2, Solmi manipulates video to tell stories, incorporating his own style, says Graves. Hand painting is incorporated with the video game structure. There's even a virtual reality station, where visitors don goggles and control the scene with a joystick, immersing into the artificial world and becoming a part of the Bacchanalian debauchery. 
For those interested in how this world is created, there are storyboards and a complete description about how the artist creates this technology using wireframe figures.  
It is important to know that Solmi, born in Bologna, Italy, in 1973, grew up in a butcher shop. His father was a butcher and Solmi worked with him in the shop.  
In "Bathhouse" there's a pig presented on a platter, a symbol of the excesses of revelry, and one has to wonder about the connections to what Solmi saw, and cut, in his formative years. In his childhood, he was surrounded by animal carcasses and blood.  
Solmi is completely self-taught as an artist. The Guggenheim Foundation Fellowship recipient who, from 2016-2019 was a visiting professor at Yale and whose artwork is in the Smithsonian and Phillips Collection, could not attend college because of his responsibilities at the butcher shop. Days there began at 4:30 a.m., he recounts by phone from his warehouse-like studio in Bushwick, Brooklyn. In fact, he was the first in his family to graduate from high school. These days he lives in Westchester, New York, with his wife, an IT executive, and two children, commuting to work in Bushwick six days a week. Having grown up working from pre-dawn until the shop closed at 8:30 p.m., Solmi is accustomed to putting in a rigorous day. 
His education came from the people he met at the butcher shop, Solmi says. "I was looking for something that wasn't a life in a butcher shop." From customers he learned about the history of Renaissance art. Bologna is a city rich with vestiges of the medieval, Renaissance and Baroque, and is home to the University of Bologna, known as the oldest university in the Western world. 
"It has an incredible art scene," says Graves. 
Advertise with New Jersey Stage for $50-$100 per month, click here for info
---
While out making deliveries, Solmi would see frescoes and ceiling paintings. Word got out that the son of the butcher was interested in art. 
"Customers would tell me what to read, what to study. I had a tremendous amount of energy to pour into this task because I was determined to be an artist," continues Solmi. Shop-goers would lend him books and educate him about cinema. "It's not just about painting but understanding point of view: What was happening in the history of art, of humanity." 
When asked about when he first "picked up a brush," Solmi tells this story: How after a day at the shop, he went to make a delivery to an older customer. "He was an amateur painter and he showed me how to create an image," Solmi says in accented English. "It was like a religious illumination." Soon he met an 85-year-old artist who took him under her wing, tutoring him. 
Solmi was about 20 when his father died. His three younger siblings were not yet independent and so he stuck around to support the family before leaving for Paris. In 1999, found his way to New York. 
"Everyone told me I had a 99.9% chance of failure, considering my education and that I didn't speak the language," he says. "But (scraping by) was nothing compared to (the sacrifices made in) doing what you weren't meant to do, stuck in a life not yours." 
During all the years at the butcher shop, living with his parents, he had managed to save money. "All of it went to invent a life," he says. He learned to speak English while tending bar. "I was on a mission, I knew I wanted to become an artist. It took all of the strength to do that, to understand what was going on in art, to be sharp and invent a unique way, and to be accepted by a culture not yours. The people of my generation had graduated from Yale and Columbia and I had to start from zero. I didn't even have a community." 
"But I was young and knew how to communicate, and step by step started to do work no one else doing," Solmi continues. 
Critic Lawrence Wechsler on his Substack newsletter wrote, "All (Solmi) had was his discipline, his ambition, his evident eagerness and his sheer—how does one say chutzpah in Italian?—his frontatezza, his audacio, his baldanza, his ardimento." 
In Bologna Solmi had not encountered contemporary art and in New York began going to museums and galleries, meeting people. 
Beyond the history and the making of art, he also had to learn the technology. "I was always a keen observer of what was going on in American society. I was never a gaming player but saw some of the early video games a real aesthetic shock — to see how corporations recreate images like war. I started to think about using these images in a way that would distinguish me from other artists." 
An avid reader, Solmi dove into ancient Greek and German philosophy, but really connected with left-leaning writers such as Eduardo Galeano ("Open Veins of Latin America") and Howard Zinn ("A Peoples' History of the United States"). 
Zinn "wrote the real history of the United States, from the side of the underprivileged, and as an immigrant myself (it struck a chord). There were big lies being told," says Solmi. "It was considered taboo to openly criticize the American historical narrative. I never wanted to make beautiful paintings for American aristocracy; I wanted to have meaning. 
"As a guest in this country, an expat, (I'm making) satirical videos about the founding fathers and conquistadors, a caricature of these leaders, running around empty and full of themselves, and in the end doomed to disaster. I try to dismantle (their legends), to (show them as) weak human beings with vices." 

Federico Solmi, The Great Debauchery, 2019. 2019. Acrylic paint, gold leaf, and silver leaf on wood panel. 6 x 20 ft. (photo courtesy of the artist).
Why does he target American history, instead of the history of his native Italy? "For 23 years I haven't lived there; I'm infatuated with Italian people but wanted to talk about the culture I am experiencing. I have no right to criticize a place I'm not a part of. Also it's an attempt, by studying American culture, to be accepted," says Solmi. 
As a native Italian living in this country, Solmi feels like he belongs neither here nor there. "Even though I've lived more than half my life here, people don't see me as an American. Many of the 20th century American artists who went to Paris to absorb great things, such as Gertrude Stein and Ernest Hemingway, felt left out of both cultures. In France they were Americans. It gives true meaning to the word expatriate," he says. 
Solmi was influenced by that other Federico, Fellini, the visionary filmmaker, from whom he learned about "the atmosphere of dreaming – it's the difference between writing history and fiction. I was not interested in being accurate, re-creating a reality that was fake. A historical account is so much propaganda and manipulated narrative, so I decided to create a fictional reality, like Disney gone wrong, through mockery and grotesque imagery, to get to the truth. That's what Fellini had in mind — that through fiction you can talk about reality better than anywhere else."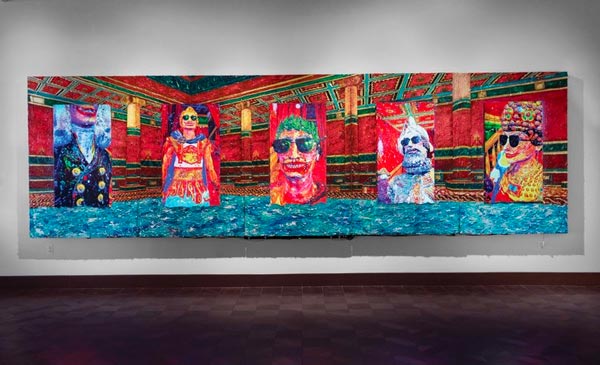 Federico Solmi, The Bathhouse, 2020. Five-channel video installation, acrylic paint and gold leaf on plexiglass, painted frames, LED screens, video loops. 9 min 46 sec / 72 x 240 x 4 in. (182.9 x 609.6 x 10.2 cm) (photo courtesy of the artist).
In "The Bathhouse," we see five vertical monitors set in an enormous painted panel of a rococo interior with a large pool. Amid sculpture from antiquity to Jeff Koons, a woman in an ornate feathered headdress and wings, wearing a bikini made of golden jewels and chains, swings like a trapeze artist. An orchestra performs as colonial-clad warriors, and toga-wearing figures frolic in the water. Platters of sumptuous food and drink are passed around, people whoop it up with Champagne and that aforementioned pig on a platter – it's as if this was their victory party after conquering the world. Or is it a Fourth of July extravaganza? Fireworks are exploding, and the Pharoah, the Pope and Native Americans are all applauding. 
A viewer might wonder: Is this the end… or is it the world we're living in now? 
Another "Joie de Vivre" moment: It was the middle of the pandemic and to escape the gloom he felt all around, Solmi went to the Barnes Foundation to see Matisse's "Le Bonheur de vivre," also called The Joy of Life. "I was so afraid to see such an important painting in person, afraid I'd be disappointed, but I was captivated," he says. Matisse's frolicking dancers became fodder for the characters of the 'Bathhouse,' dancing a waltz. "These sinister characters are transmitting a feeling of liberation and joy," Solmi continues. "They are really just kids at play. These eerie evil people from history are letting themselves go. In a way, they are coming down from throne and just being human with all the weaknesses."
---
About the author: Driven by her love of the arts, and how it can make us better human beings, Ilene Dube has written for JerseyArts, Hyperallergic, WHYY Philadelphia, Sculpture Magazine, Princeton Magazine, U.S. 1, Huffington Post, the Princeton Packet, and many others. She has produced short documentaries on the arts of central New Jersey, as well as segments for State of the Arts, and has curated exhibitions at the Trenton City Museum at Ellarslie and Morven Museum in Princeton, among others. Her own artwork has garnered awards in regional exhibitions and her short stories have appeared in dozens of literary journals. A life-long practitioner of plant-based eating, she can be found stocking up on fresh veggies at the West Windsor Farmers Market.
Content provided by Discover Jersey Arts, a project of the ArtPride New Jersey Foundation and New Jersey State Council on the Arts.