NEWS | FEATURES | PREVIEWS | EVENTS
originally published: 10/27/2022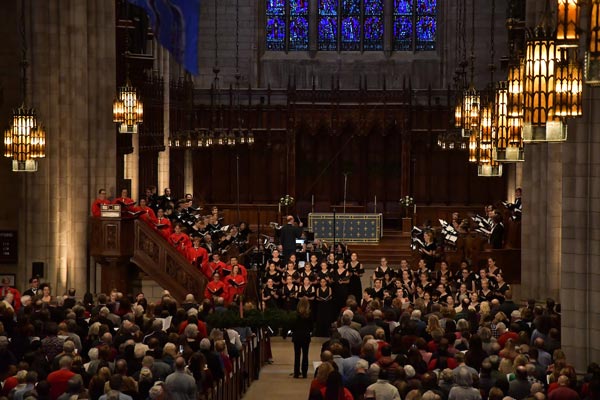 (LAWRENCEVILLE, NJ) — Westminster Choir College of Rider University will celebrate the 30th Anniversary of An Evening of Readings and Carols with performances on December 9-10 at Princeton University Chapel. The beloved program is the students' culminating performance for the fall semester and a much-anticipated holiday event for the Rider community as a whole.
First established in 1992 by Dr. James Jordan and Dr. Kathleen Ebling Shaw '85, An Evening of Readings and Carols is based on the famous King's College service, A Festival of Nine Lessons and Carols, which features traditional Bible texts, hymns and prayers to celebrate the holiday season. While the spirit of the performance remains the same, the program has been adapted over the years to incorporate a variety of readings and music from a multitude of traditions.
What began as a small performance between Westminster's Chapel Choir and Concert Bell Choir has since expanded to include the Westminster Jubilee Singers, the Westminster Symphonic Choir and more recently a Westminster alumni choir. New to this year's performance is a high school honor choir featuring local students that have been recommended by their choral directors for exemplifying outstanding performance and dedication.
"The inclusion of alumni as well as high school students means that this event Westminster represents's past, its present and its future," says Dr. Jason Vodicka '03, '09, associate dean of Rider's College of Arts and Sciences and associate professor of music education at Westminster Choir College.
In the past, archival recordings of An Evening of Readings and Carols have been made available through WWFM The Classical Network. This year, a campaign has been launched to enable the Choir College to record and televise the event, allowing one of Westminster's most beloved traditions to be shared with audiences all over the world.
Advertise with New Jersey Internship for $50-$100 per month, click here for info
---
"The program has grown so much and comes so far. It has become a cherished time for the entire Rider community to sing together," says Jordan, professor of conducting. "The prospect of finally seeing it televised is very exciting."
The evening's programming will include numerous works from the choral repertoire, including favorites such as I Wonder as I Wanderarranged by Dr. Steve Pilkington, associate professor of sacred music; Introit and Kyrie from Missa Carolae composed by James Whitbourn, co-director of the Choral Institute at Oxford program; First Nowell Festival, arranged by Dr. Dan Forrest; and silent nightarranged by Dr. Brandon Waddles '16, as well as several performances by the Westminster Concert Bell Choir, including a transcription of Trepak from The Nutcracker and On This Day Earth Shall Ringarranged by Cathy Moklebust.
"Readings and Carols is a wonderful way to celebrate the holiday season," says Shaw, conductor of the Westminster Concert Bell Choir and adjunct instructor of sacred music. "It has been a privilege to be a part of this event for 30 years and to know that it is at the top of the list of most loved experiences for many Westminster Choir College alumni and students."
Tickets will be available to purchase beginning November 1 at rider.edu/readings-carols. To become a patron of Westminster Choir College and receive premium seating for the performance as well as recognition in the concert program, please visit alumni.rider.edu/boss.
For more information on how you can help fund the recording of An Evening of Readings and Carols: 30th Anniversary Celebration, please visit the campaign page here.
PHOTO: The 2018 performance of Readings and Carols at Princeton University Chapel. Photo courtesy of Rider University