NEWS | FEATURES | PREVIEWS | EVENTS
By Adam F. Cohen
originally published: 10/19/2022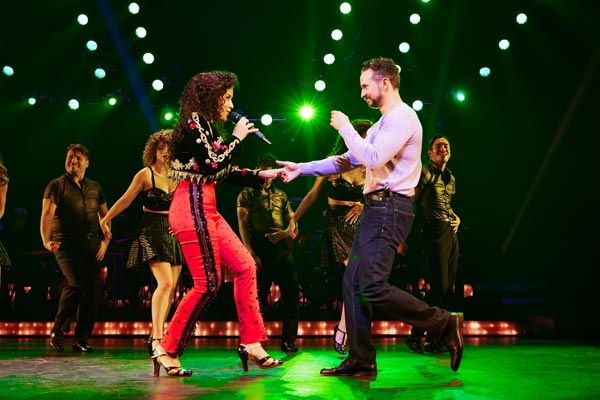 Gloria and Emilio Estefan, international recording stars, producers, promoters, restauranteurs, found romance and the rhythm in their humble Little Havana beginnings that brought them worldwide fame. Gloria, a Cuban-American singer and actress is a seven-time Grammy Award winner, a Presidential Medal of Freedom recipient, and has been named one of the Top 100 greatest artists of all time by both VH1 and Billboard. Estefan's record sales exceed 75 million worldwide, making her the second best-selling female Latin artist in history and one of the best-selling female singers of all-time.
Estefan started her career as lead singer of Miami Latin Boys which was later renamed Miami Sound Machine. She and Miami Sound Machine earned worldwide success with their 1985 single "Conga", which became Estefan's signature song. In 1988, she and Miami Sound Machine achieved their first number-one hit with "Anything for You". Estefan is credited with breaking down barriers and opening doors for Latin musicians.
Their journey to chart topping international success is traced in the biographical musical jukebox "On Your Feet" which is blasting the roof off the Paper Mill Playhouse in New Jersey.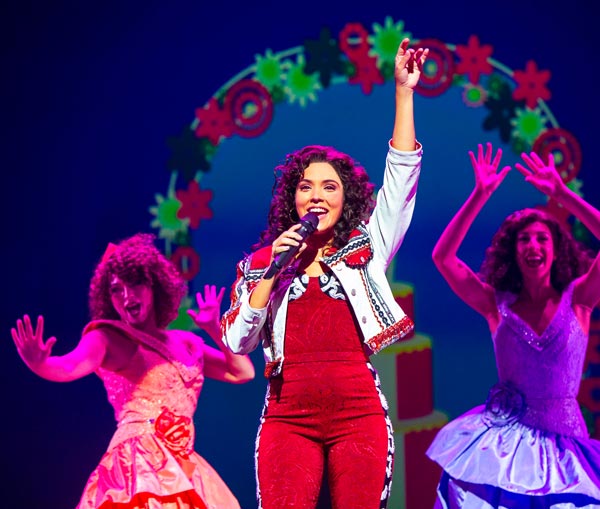 Linedy Genao portrays Gloria and easily finds a nice balance between sultry and sweet and absolutely matches Gloria's vocal prowess. Portraying a living person without mimicking them is difficult, and Genao finds her sweet spot, capturing the singer with verve and gusto. She is a great dancer and a dynamic singer and a fine actress. Brandon Espinoza finds the hunger and grit within Emilio. His portrayal is tenacious. He struts across the stage, depicting Emilio as both gentle and assertive. His singing ability doesn't match Genao's and their stage chemistry never fully heats up, but he's truly committed to the role and captures the frustration of being an ingenious creative hustler who wants to be taken seriously by the music industry.
It's the music you want and thankfully it's all here. Expect to hear dozens of early hits, including "Rhythm Is Gonna Get You," "Mi Tierra," "Can't Stay Away From You," "Oye Mi Canto," "Conga" and, of course, "On Your Feet ." Director and choreographer Alex Sanchez keeps the pace taut as the cast robustly and expertly performed. Carlos Carreras, playing a bar mitzvah boy—who gets caught up in the "Conga" craze after the song is released, dances with so much fervor and emotional impact he could stop the show if the music wasn't so relentless. He is typical of the large cast whose members easily play multiple small roles, perform as a chorus and create a curtain of reality of the Miami Cuban scene.
Advertise with New Jersey Internship for $50-$100 per month, click here for info
---
A colorful laundry scene for "Tradicion" is a first-act showstopper. The yellow, pink and green sheets waving across the stage as the cast dances salsa and bachata is captivating and feels so authentic. Their talents also rise in a flashback scene when Gloria's mother (Francisca Munoz) sings at a club in Cuba. The orange-red lights onstage and Munoz's passionate, yearning voice are riveting. Gloria and Emilio Estefan tucked their message advocating for the liberation of all people into dance records, and it's moments like these that re-emphasize the message that "music cleans the soul."
Alexander Dinelaris' book is fairly flimsy – flashing back to Cuba and Vietnam to portray the circumstances of the family's migration and Gloria's father's resulting MS from Agent Orange (thanks to Wikipedia for filling in the blanks with more details). The story highlights three generations of women: Gloria, her mother and her grandmother. Yajaira Paredes' Consuelo, the abuela, is played with strength and beauty. Her scenes are always effective, sometimes funny, sometimes serious, but, as the champion of her granddaughter's dreams, she brings heart and gravitas to the role.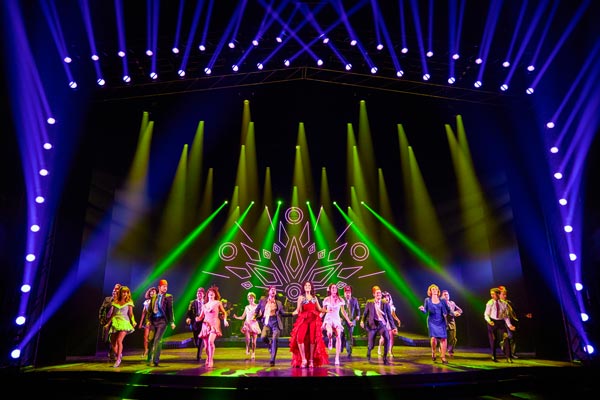 What makes this show different from other bio-shows about pop singers is the marriage. There is no abuse, betrayal, alcoholism…just commitment to their art, community and one another. This is a couple in love, who support one another almost all of the time and provide for one another. The love story in this show is a beautiful one and that alone makes it a winner.
The set designs by David Rockwell are superb and often in motion and the costumes—those fabric creations that define time, place and character—by Emilio Sosa are spectacular and a show all by themselves.
From "Dr. Beat" to "On Your Feet," it's hard not to dance when you hear a Gloria Estefan tune. On Your Feet! is a feel-good musical and a reminder of the power that lives inside each of us to make a difference. The human sum of the biographical bits and pieces of music and life that forged the legend of this couple's achievements and seal it within the musical are worth seeing, especially with Genao's singing and Sanchez' exuberant and joyful choreography. Vibrant choreography, killer rhythms, and enough humor and drama to hold attention through the quieter scenes ensure that even those who arrive only knowing a song or two will have a fun night.
Tickets and more information at papermill.org. The show runs through November 6th. Paper Mill Playhouse is located at 22 Brookside Drive in Millburn, New Jersey.
PHOTOS by Jeremy Daniel and Daniel Rader