NEWS | FEATURES | PREVIEWS | EVENTS
originally published: 10/25/2022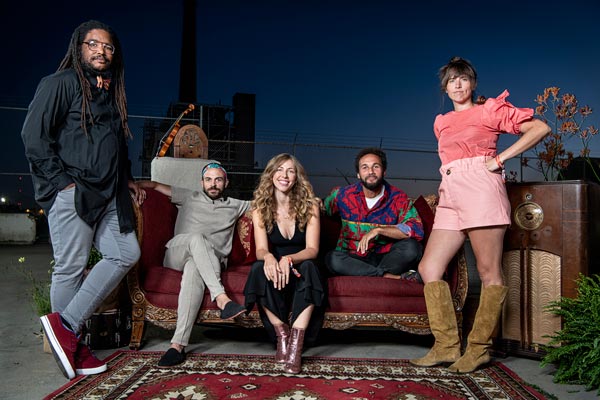 (NEWARK, NJ) — See Lake Street Dive at New Jersey Performing Arts Center (NJPAC) in Newark, New Jersey, on Sunday, February 5, 2023 at 7:00pm for an easy going, semi-acoustic evening. Concertgoers can sing along as the band performs a review of their 18-year catalog of songs. Join the band in their most relaxed, basement couch setting for deep cuts, fan favorites and maybe some works in progress. Also performing as a show opener is acclaimed singer-songwriter special guest: Monica Martin.
Lake Street Dive have matched its sophisticated musicianship with a fearless refusal to limit its sound. As witnessed on their most recent album, 2021's critically acclaimed Obviously, the Boston-bred band also possesses a keen talent for combining sociopolitical commentary with immediately catchy pop gems. With their current lineup comprised of founding members, Rachael Price (vocals), Bridget Kearney (bass), and Michael Calabrese (drums) — as well as keyboardist/vocalist Akie Bermiss and touring guitarist James Cornelison — Lake Street Dive continue to create joyfully soulful rock & roll with equal parts ingenuity, intelligence, and irresistible abandon.
Although a certain spirited eclecticism has defined Lake Street Dive since its earliest days, the band's four original members (including former guitarist/trumpet player Michael "McDuck" Olson) first crossed paths while studying jazz at Boston's New England Conservatory of Music. The following year, the group experienced a new infusion of creative energy with the addition of Bermiss (previously their touring keyboardist), who has since begun sharing writing and arrangement duties. Arriving in 2018, Lake Street Dive's self-produced sixth album Free YourselfUpdebuted in the top ten on the Billboard 200 and spent seven-and-a-half months on the non-commercial radio charts, with the smoldering hit single "Good Kisser" holding steady in the top five at Americana radio for over a month .
Over the years, they've captivated massive audiences at such esteemed festivals as Newport Folk Festival, Telluride Bluegrass Festival, and Toronto Jazz Festival, in addition to headlining tours all across the globe and sharing stages with acts like Brandi Carlile and Sheryl Crow. And through their fierce commitment to constantly elevating their artistry, Lake Street Dive have ultimately emerged as one of the most compelling voices in alternative music today, both reliably sublime and thrilling unpredictable.
Singer and songwriter Monica Martin. Trained as a hairdresser, she didn't have musical plans beyond joke-singing harmonies over the radio. She fronted the acclaimed experimental folk-pop sextet, PHOX, formed just outside Madison, Wisconsin. Eventually, Monica moved to LA because "Wisconsin is cold as f*ck." She found a little periwinkle casita and feels more accessible than ever in the city of misfits. She's presently at work putting melodies to her "explorations in romantic f*ckery" with lowkey pop songs with blue note whispers, some golden-era Hollywood dramatics, and psychedelic flickers courtesy of a theremin.
Advertise with New Jersey Internship for $50-$100 per month, click here for info
---
Tickets go on-sale on Friday, October 27 at 10:00am and can be purchased by visiting NJPAC.org or calling 888.GO.NJPAC (888.466.5722) or by visiting in person at the NJPAC Box Office, 1 Center Street in Newark, New Jersey. Tickets range from $39.50 – $99.50.
New Jersey Performing Arts Center (NJPAC), located at One Center Street in downtown Newark, New Jersey, has the most diverse programming and audience of any performing arts center in the country, and is the artistic, cultural, educational and civic center of New Jersey – where great performances and events enhance and transform lives every day. NJPAC brings diverse communities together, providing access to all and showcasing the state's and the world's best artists while acting as a leading catalyst in the revitalization of its home city. Through its extensive Arts Education programs, NJPAC is shaping the next generation of artists and arts enthusiasts. NJPAC has attracted more than 9 million visitors (including over 1.7 million children and families) since opening its doors in 1997, and nurtures meaningful and lasting relationships with each of its constituents.
Advertise with New Jersey Internship for $50-$100 per month, click here for info
---