NEWS | FEATURES | PREVIEWS | EVENTS
originally published: 10/18/2022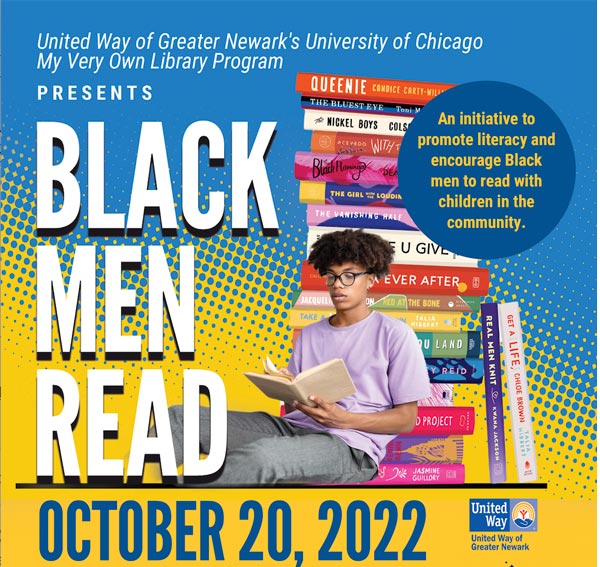 (NEWARK, NJ) — United Way of Greater Newark's My Very Own Library (MVOL) will kick off Black Men Read Day at Camden Elementary School (281 Camden Street in Newark) on Thursday, October 20 at 9:00am. On this day, Mayor Ras J. Baraka, Superintendent Roger Leon, Duane Davis, National Director of My Very Own Library, University of Chicago, Newark Municipal Council Members Dupre Kelly, Patrick Council, and local author Robert Constant will join men from the community to read to elementary school children.
Black Men Read will be celebrated in six MVOL locations around the country and the Dominican Republic and is a day to encourage men, especially Black men to read to children in the community. Reading can take place at home, during bedtime, or even at the local public library.
"My Very Own Library has long been a staunch supporter of the Newark Public Schools, as evidenced by their commitment to providing 10 free books to every student in participating schools over the years," said Superintendent Roger León. "And the opportunity to be read to by Black male leaders will help them expand their vocabulary and develop essential communication and social skills that are key to being successful in life."
Camden Elementary School is one of Newark Board of Education's MVOL schools under the leadership of Samuel Garrison.
"It was important to launch this initiative at a school led by an African American male principal. We are excited to this school as part of our program and initiatives like this not only encourage reading but they help dispel myths and stereotypes about Black men," said Karen Leach-Toomer, UWGN's Director of MVOL Newark.
Advertise with New Jersey Internship for $50-$100 per month, click here for info
---
My Very Own Library is an initiative that began in Newark by Anne Feeley and then mayor Cory Booker and aims to provide free books to children in traditional Newark Public Schools. The program began in six schools and is now in every Newark Board of Education elementary school. Twice during the school year, children receive 5 free books through a Scholastic book fair. Schools also have access to both in person and virtual author visits and receive grants for family literacy events.
---
United Way of Greater Newark's (UWGN) mission is to disrupt the cycle of poverty by convening, collaborating and investing in strategies to improve outcomes for children and families. UWGN has a long history of convening disaster funds in the community, including having established the 9/11 fund, the Hurricane Sandy Relief Fund and, most recently, the Newark Water Fund. In order to continue providing support to the community and its non-profit partners during the COVID-19 crisis, UWGN has established the Community COVID-19 Fund. This is a regional fund serving its 13-municipality footprint including Newark, Irvington, East Orange, West Orange, South Orange, Orange, Belleville, Nutley, Maplewood, Kearny, Harrison, East Newark and North Arlington.
---
My Very Own Library is a University of Chicago Elementary Education Initiative that focuses on bolstering literacy and fostering a love of reading while also empowering students to build their very own home libraries. The program has served more than 50,000 students in seven locations throughout the world, distributed more than 2 million books, hosted over 500 author visits, and worked with 100 school partners to engage families in more than 1,000 family literacy events since its inception in 2011.
Advertise with New Jersey Internship for $50-$100 per month, click here for info
---