NEWS | FEATURES | PREVIEWS | EVENTS
originally published: 10/18/2022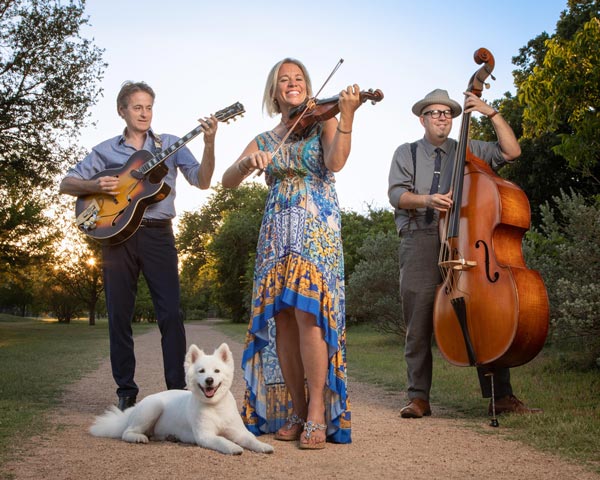 (TUCKERTON, NJ) — After two years of outdoor shows The Lizzie Rose Music Room is returning to its indoor location in Tucketon. The room is considered a gem on the South Jersey music scene offering an intimate listening room experience to audiences of 70 people at a time. A recently successful GoFundMe campaign has enabled the room to bring its live music shows back to its original home of eight years. The reopening is this Sunday October 23rd starring the Hot Club Of Cowtown stopping in for their 25th anniversary tour.
Award-winning Austin, Texas-based, Hot Club of Cowtown may be the world's most globe-trotting, effervescent string trio, who's joyful sound blends the traditional Western swing of the 1940s American southwest with European hot jazz influences of the same era. The Hot Club of Cowtown, which is celebrating its 25th anniversary in 2022, writes its own original songs and reinterprets everything from hoedowns to American songbook standards in its own, original style. The band is guitarist Whit Smith, fiddler Elana James, and upright bassist Zack Sapunor.
HCCT has toured with Bob Dylan, Willie Nelson, Roxy Music and others and proudly represents traditional American music throughout the world for the US State Department from Azerbaijan to the Sultanate of Oman. It has been named Ameripolitan Western Swing Group of the Year and is a member of the Texas Western Swing Hall of Fame. Fifteen albums, a global following, and the relentless passion of its live shows are the band's enduring trademark.
Recently signed to UK roots label the Last Music Company, the Hot Club of Cowtown continues to amass a devoted following worldwide through its one-of-a-kind versatility and virtuosity. Career highlights include the Fuji Rock Festival (Japan), Lincoln Center, the Grand Ol' Opry, the Glastonbury Festival (UK) and all points in between.
"This trio's stylistic genesis–as well as title–stems from the realization that the great heritage of strings (guitars and violins) originates mutually with the Manouche gypsies of France and the no-less virtuosic hillbilly pickers and fiddlers of Oklahoma and Texas…. Together for over 15 years and a dozen albums, the threesome of high-heeled violinist Elana James, guitarist Whit Smith and bassist Jake Erwin showed from the beginning that jazz and country music could exist together on the same page, a highly commendable achievement if ever there was one." – Wall Street Journal
Advertise with New Jersey Internship for $50-$100 per month, click here for info
---
"[James's] inventive violin style can still conjure up the unique image of Bob Wills strolling through Tin Pan Alley." – JazzTimes
"As instrumentally and vocally tight as any band out there working in any genre today….three skilled musicians who can seemingly just tune up and play, something that's becoming increasingly rare these days." – American Songwriter
Tickets for Hot Club Of Cowtown are $35 advance $40 door. Showtime is 7:30pm.
Lizzie Rose Music Room is located at 217 East Main Street in Tuckerton, New Jersey.