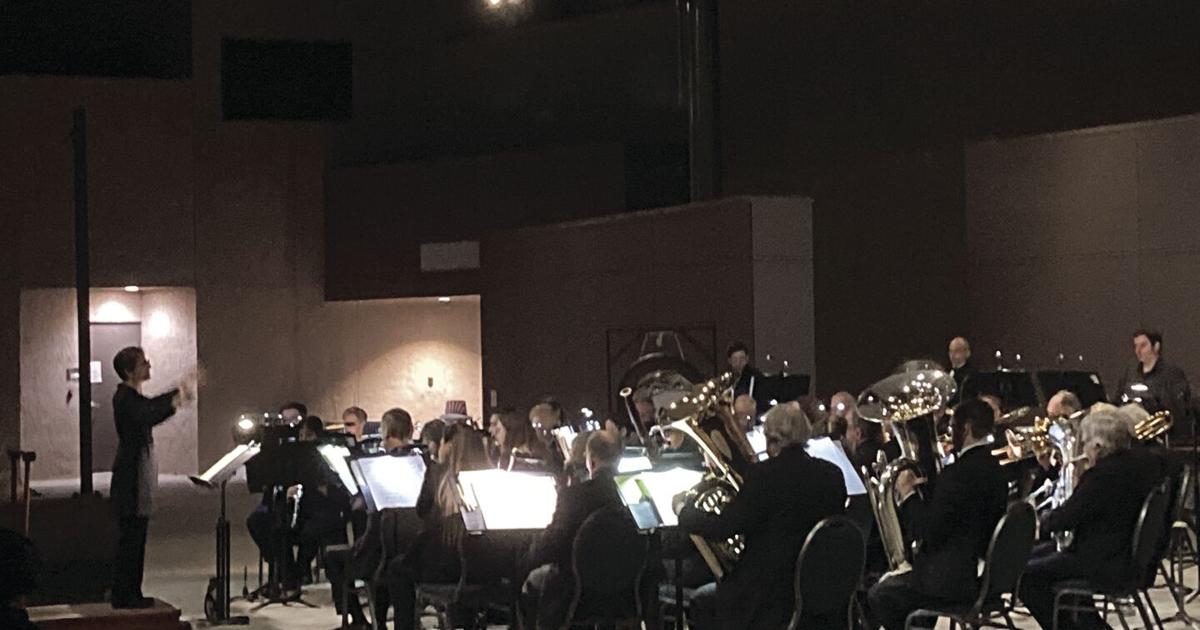 Entering its 45th year of playing music, the Scottsdale Concert Band is eager to get fans into the Halloween spirit by playing a show full of songs that will make them jump out of their seats.
The concert, which is set to take place at the Amphitheater at Scottsdale Community College on Wednesday, Oct. 26, is set to feature tunes from films like "The Lord of the Rings", "2001: A Space Odyssey", "ET" , "Harry Potter and the Sorcerer's Stone" and "Star Wars."
"'Things That Go Bump in the Night,' I think means (something) a little different for every single person, so that's why I have an array of things," said Scottsdale Concert Band director Michele Kalo.
"Some people think that science fiction is kind of scary. Some people think that old folk legends and Greek mythology is kind of creepy, or something might be triggered by something that goes bump in the night. So that was sort of my motive from behind that."
To prepare fans in attendance to get goosebumps from the music, Kalo has spent the last eight weeks meeting once a week for a two-hour rehearsal with the band – which has finally returned to full force after pandemic limitations.
"We had to take basically a season and a half off during COVID and so last year was the first time that we were able to have rehearsals again and do some performances with a restricted size on the group for the COVID restrictions that we were under, " Kalo said.
"To be frank, I'm most excited that we get our band back in the 60- to 70-member range."
Kalo says her membership is a mixed bag of musicians.
"Our membership is awesomely diverse in that our oldest members are approaching 90 years old and then I have a student who was a student of mine when he was an eighth grader last year, and so this year he's a freshman in high school," Kalo said.
The band also calls in members from across the state and from all walks of life.
"We have a lot of music educators, doctors, pharmacists and lawyers and we have some people who come from the Glendale, Apache Junction area, Fountain Hills and people south of the Valley coming in," Kalo said.
Despite those differences, they are all bonded by the soothing sounds their instruments produce and are excited to give fans an exhilarating show.
"I usually like to take a little bit of something from the more classical era, so we're going to open the concert with Also Sprach Zarathustra, which is famous from the movie '2001: A Space Odyssey,'" Kalo said.
"Then we're going to break into a variety piece that's basically about lots of death and hell so we start with a bang. Then I'd like to move into using some more modern pieces like this piece called 'The Four Horsemen of the Apocalypse.'"
Kalo likes to end the set with even more pizazz.
"I always like to bring in some either movie or pop music or jazz at the end of a concert and for this concert, we're going to be ending with a big John Williams medley of music," she said.
"It takes you through a sort of a great tour of a lot of his music from ET, Harry Potter and, of course, it closes with everyone's favorite, Star Wars."
Because of this, Kalo hopes to show those in attendance at the free show that the spirit of music is alive and well in Scottsdale among these musicians.
"We just want everyone to know that, you know, community music is alive and well in Scottsdale," she said.
Due to the show's close date to Halloween, Kalo also encourages guests to break out their Halloween costumes as some band members may be doing the same thing.
If You Go:
Scottsdale Concert Band
What: "Things That Go Bump in the Night"
When: 7:30 pm Wednesday, Oct. 26
Where: The Amphitheater at Scottsdale Community College, 9000 E. Chaparral Road, Scottsdale.
Cost: Free
Info: scottsdaleconcertband.org
.