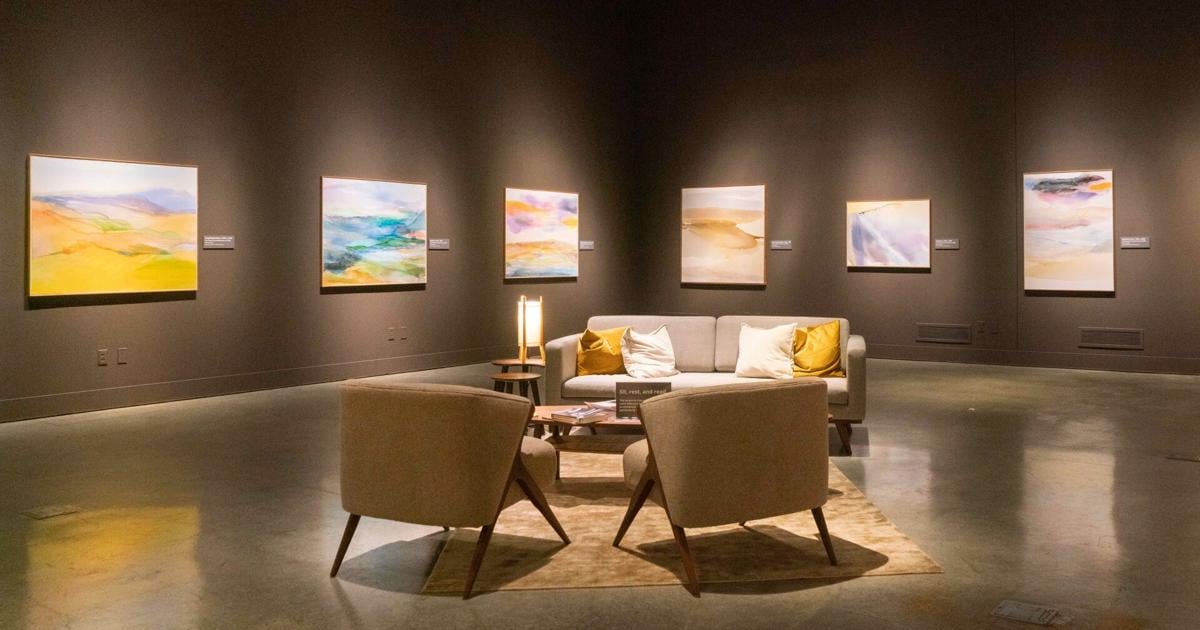 Vibrant abstract art is now on display at the Northwest Museum of Arts and Culture (MAC). "Gift of a Moment: Lila Shaw Girvin", is a new exhibition that provides museumgoers with a thorough look at the art and life of Spokane local, Lila Shaw Girvin.
Girvin, 93, has been creating art in the Inland Northwest since she moved to Spokane in 1958.
"She is one of this area's most beloved painters," said Anne-Claire Mitchell, the independent curator who curated the exhibit. "We wanted to give her a retrospective exhibition, and this is what we call a mini survey. It's highlighting some key moments in the development of her practice over the last 60 or so years."
According to the MAC website, Girvin grew up in the Denver, Colorado area. She attended the University of Denver where she received a bachelor's in fine arts. Girvin then moved to Spokane where she attended classes at Washington State University Spokane extension and Fort Wright College.
The exhibition is split into three sections — "Figurative Spaces", "Inner and Outer Landscapes" and "Moving Towards the Source". Each shows an era of Girvin's artistic practice.
"Lila works primarily in abstraction, although her style has evolved over time," Mitchell said.
According to Mitchell, the classic expressionist influences and techniques were apparent in her early work. She painted using a brush with vigorous brush strokes in what might be called an action style. Human-centered activity was also a key focus of Girvin's earlier work.
"She was really involved in war protests, civil rights action, feminist movements, things like that," Mitchell said. "And she was also very engaged with her children. And so, there's a lot of activity and human-centered stuff going on."
The expressionist influence was also apparent to Wes Jessup, the executive director of the MAC.
"She reminded me of some other artists," Jessup said. "I mean she sort of started work in the late 50s, early 60s which was a period of American art where there was a lot of experimentation around abstraction, the second-generation abstract expressionist painters were coming up."
However, over time Girvin's work became softer. Nature became a primary artistic focus. According to Mitchell, the private exploration of the natural world is where Girvin feels most comfortable and it evokes a sense of spirituality.
With this change in content also came a change in form.
"She abandoned the paintbrush, and she started painting on a floor pouring turpentine-diluted oil paint onto the canvas and moving it around with rags and moving the canvas," Mitchell said. "And that was a technique that is reminiscent of the one called the soak stain method that Helen Frankenthaler pioneered in the 60s."
Girvin's art went through more transition following a tragedy within her family. Her youngest son Matthew died in a helicopter accident while he was participating in a United Nations Children's Fund mission in Mongolia.
"Overlapping with this moment and following it, her practice sort of evolved into this deeper, more dimensional aesthetic," Mitchell said.
According to Mitchell, many of Girvin's later paintings in the exhibition are tributed to Matthew.
"What I think is really interesting about them is that she was able to take this painting technique that abstract expressionists like Frankenthaler were using in a much flatter way," Mitchell said. "A style that was called color field painting, but that she really made her own. And she's hybridized a lot of different methods and approaches and influences to make something that really sucks you into the painting."
While Girvin was unable to be reached for an interview, the exhibit has elements that allow her to shine through within the exhibition space.
Labels and pieces of writing on the walls give insights into Girvin's artistic and personal philosophy. A picture of her study space is projected onto the wall. The gallery also contains a couch and a coffee table in the middle of the space, inviting visitors to sit and view the art from a unique perspective.
"I think that the show is kind of as much about art as it is about Lila and her life," Jessup said.
The warmly lit simulated living area also showcases a selection of books that were chosen by Girvin.
Surrealist literature, Jungian psychology and poetry make up some of the reading material that visitors can browse while immersing themselves in Girvin's art and life philosophy.
"Visiting with Lila is a really warm experience, she'll invite you into her living room in a beautiful mid-century house that she and her husband have owned since 1958, since they moved to Spokane, and so we wanted to kind of evoke that here in this living room setup," Mitchell said.
Jessup also highlighted the effect that the living room setup has on the space and how it changes the experience of Girvin's art.
"I think it's a really cool installation," Jessup said. "Just the room is very serene. I really liked going into that gallery and sitting on the couch and just kind of looking around. It's just a different kind of experience."
The retrospective opened Oct. 9 and runs through Mar. 12. For more information on ticket prices, visit the MAC website.
For Mitchell, the exhibition presents a great opportunity for visitors to experience the moving effects of Girvin's art firsthand.
"I think that even though Lila's work is really stunning at first glance, a lot of these paintings do ask you to look at them for a while so that you can see more," Mitchell said. "They have kind of an emotional resonance if you sit with them long enough."
.