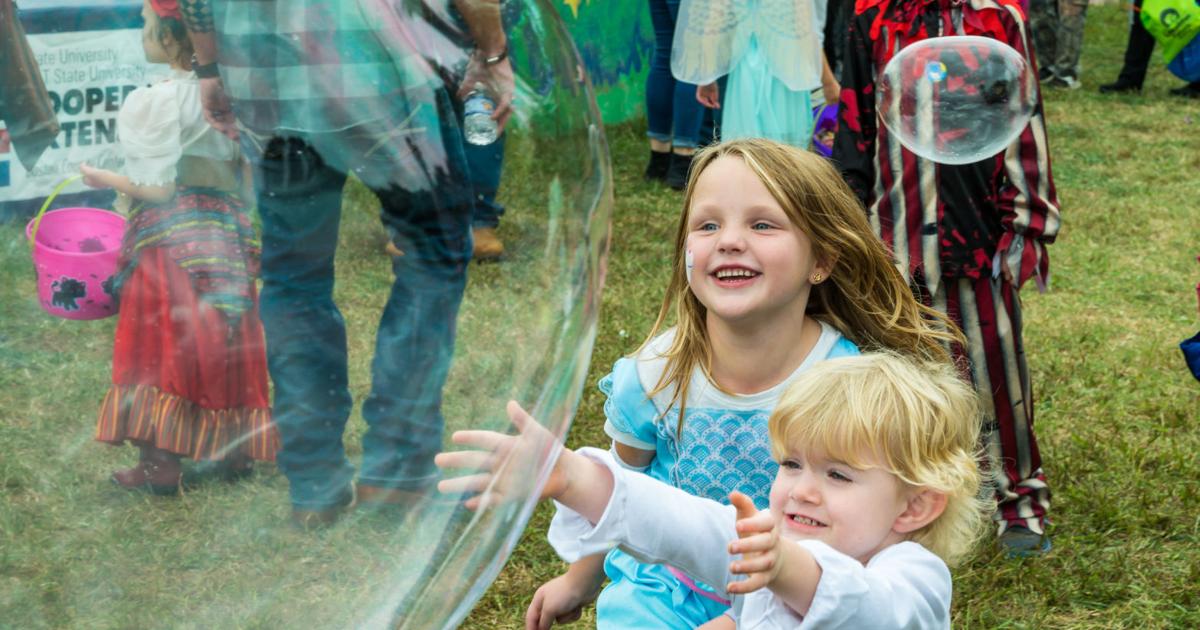 VALE – Things are starting to get spooky in Lincoln County. The exciting and completely free to attend Spooktacular Festival is returning for their 14th year at Woodmill Winery in Vale on Saturday, Oct. 29. This event is held by Partnership for Children of Lincoln & Gaston Counties.
Spooktacular offers families hours of free entertainment, hands-on activities, trick-or-treating and a hot dog lunch.
This year, the kid's zone will feature a soft-padded play space for crawlers through five years, inflatable jump houses, obstacle courses and slides for older children. In addition, there'll be face painting and craft making, free books and stuffed animals, superheroes and hero first responders, age-appropriate games, music and dancing. The Colgate "bright smiles, bright futures" mobile dental unit and dozens of other organizations and businesses that provide services to children for families will be on site.
The Partnership for Children of Lincoln & Gaston Counties provides services for local families and children through Smart Start, North Carolina's award-winning early childhood initiative. They serve as a leading advocate and collaborative resource to provide access to high quality services for young children.
The Partnership for Children of Lincoln & Gaston Counties works to:
Ensures that high quality childcare is available for families in our service area.
Expand literacy throughout the community with programs that assist parents in developing habits of daily reading with their children and assist children in discovering an early love of reading.
Promote child health by working with providers, health departments, families, and communities to improve the health and safety for young children.
Ensure that parents and families are supported and strengthened in their role as their children's primary caregivers.
Build networks through collaboration with local programs that target families of young children in Lincoln and Gaston counties.
The Partnership for Children of Lincoln & Gaston Counties:
Administers North Carolina's Smart Start funds for programs that benefit children ages 0-5 years and their families.
Is a catalyst for bringing different groups together for the sake of children.
Educates the community on the critical needs of young children and helps develop solutions to those needs.
The mission of the Partnership for Children of Lincoln & Gaston Counties is to lead, advocate and collaborate with others to ensure the wellbeing of children, ages birth to five. Their vision is for communities
where children, ages birth to five, reach their health, developmental, and educational potential and grow to be thriving adults.
In 1997, planning funds were awarded for the Partnership for Lincoln and Gaston Counties, by the North Carolina Partnership for Children which uses its Smart Start funding in support of a wide range of early childhood initiatives, that include:
Increasing the quality of childcare at local childcare centers.
Helping local teachers of young children further their educations.
Helping families find quality childcare.
Helping families obtain childcare subsidies when they could not afford to purchase these services.
Providing one-on-one coaching for troubled families and adolescent mothers.
Spooktacular will be held next Saturday, Oct. 29 from 11 am to 3 pm at Woodmill Winery, which is located at 1350 Woodmill Winery Lane, Vale. It's completely free to attend. There's ample parking at the winery. Except for certified service animals, no pets are allowed. Parking opens at 10:30 am Activities are designed and appropriate for children under 13 years old. Costumes for children and adults are encouraged.
.