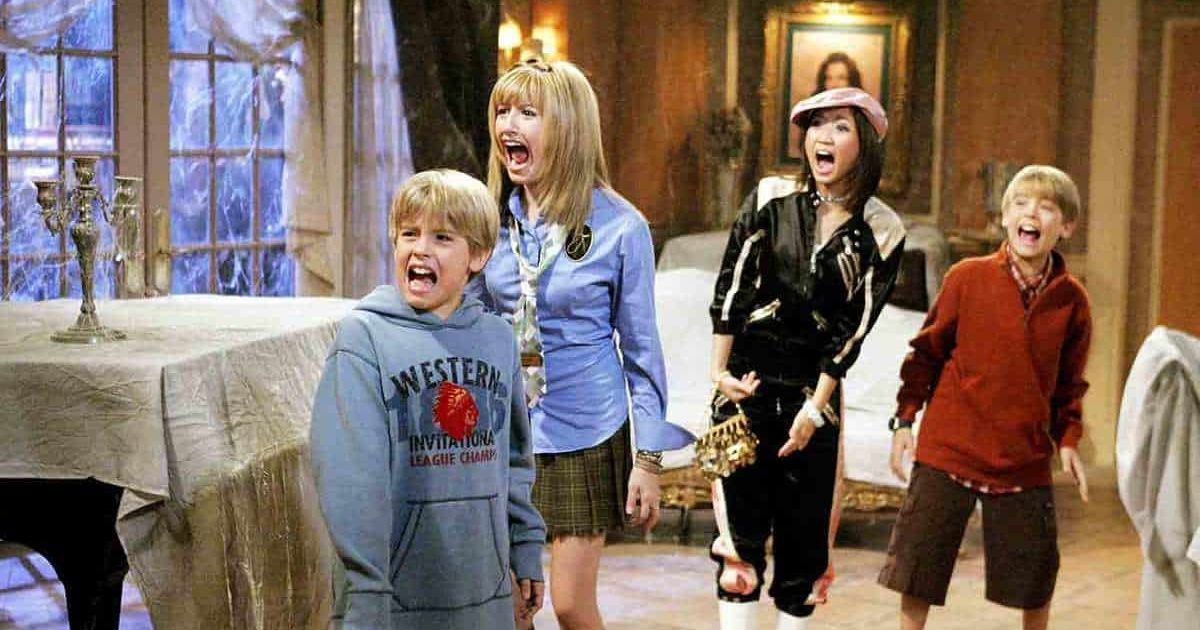 From major horror movies to spooky comedies, Halloween is a great time to stay inside and watch movies or shows that embrace the holiday. While movies are a big draw, it's also special to see TV shows take on the holiday in a themed episode. The Disney Channel was a big proponent of these Halloween-themed episodes, and would air them, along with Halloween movies, all October long. If you're not a fan of big scares or Halloween movies, these Halloween episodes of Disney Channel shows are a great way to enjoy the spirit of the holiday in a lighthearted way. Here's our ranking of the best ones.
Related: 8 Old Disney Shows That Deserve a Reboot
8/8

Ghost Bummers – Jessie
jessieabout a Texas teen (Debby Ryan) who becomes a New York City nanny to four children, pays tribute to the classic movie ghostbusters in this Halloween episode. After not being invited to a party, Jessie throws her own for the kids. Things go wrong, however, when she begins seeing ghosts, and has to defeat them to save everyone. It's a fun tribute to the movie while still making the episode accessible enough for kids.
7/8

Summerween–Gravity Falls
Gravity Falls is a beloved animated show about twins Mabel and Dipper, who encounter the supernatural with their great-uncle. This Halloween episode centers around Gravity Falls' summertime Halloween holiday. The holiday also has the story of the Summerween Trickster, who will eat them if they don't have enough holiday spirit. When Dipper accidentally insults the trickster, they have to defeat him to survive. It's a fun episode for all ages that pairs the fun supernatural elements of the show with Halloween spirit.
6/8

October 31st – Kim Possible
Kim (Christy Carlson Romano) is used to taking on villains and dealing with technology on Kim Possible, and this Halloween episode sees her deal with both. After trying to get a metallic bracelet from Drakken, it ends up stuck to Kim's wrist. While telling lies about her Halloween plans, she finds it growing on her body with each lie, while Drakken and Killigan listen in and try to steal the device. There's tension as Kim must battle the device and come clean, but it's still an entertaining and lighthearted Halloween episode.
5/8

Halloween – Wizards of Waverly Place
Wizards of Waverly Place centers around the magical Russo family, featuring Selena Gomez as Alex. "Halloween" sees the Russos preparing to host their annual haunted house, which is often lame as older brother Justin prefers a safe experience. In an effort to make it scary, Alex goes to the wizard world and comes back with real ghosts – the first are lame, so she goes back and returns with Mantooth, the scariest ghost in history, to make the house really scary. The whole cast is great in this one, making for a memorable Halloween experience.
Related: Best TV Series to Watch on Disney+ Right Now
4/8

Night of the Day of the Dead – Lizzie McGuire
Lizzie McGuire stars Hillary Duff as Lizzie, who chronicles her life across the show. In this Halloween episode, she wants to dress as a vampire character for a school dance, but is forced to be a clown instead by Kate, who's running the party. When Lizzie's friend Miranda comes with items for Day of the Dead, Kate is further disrespectful, prompting Miranda to say she will see the dead's wrath. The party becomes dark as Lizzie appears to be a zombie, and skeletons follow Kate. It's a scary installment of the show, and the cast, speaking with E News, even thought it was ahead of its time for incorporating Day of the Dead.
3/8

Don't Have a Cow – That's So Raven
That's So Raven stars Raven-Symone as the title character, who sees the future and gets into chaos because of it. This one plays around with magic instead, as Raven and her friend Chelsea put a spell on themselves to get invited to a Halloween party and win the costume contest. Things backfire as the two actually begin turning into their cow costumes, starting with make-up changes before they become cows with wigs on instead. It's a change of pace for the show, and a fun Halloween episode.
2/8

Torn Between Two Hannahs – Hannah Montana
In Hannah Montana, Miley (Miley Cyrus) is no stranger to living a double life. However, this Halloween episode gives her a literal double, as Cyrus plays her cousin, Luann. The two disliked each other in the past, but seemingly make up, and prepare to go to a Halloween party where Hannah will perform. However, it's revealed that Luann is actually posing as Hannah, and plans to reveal Miley's secret. Miley arrives in time to stop her, and it's up to her friends to tell the two Hannahs apart. It's not a scary episode, but it's a fun one, and Cyrus is great in both roles.
1/8

The Ghost of Suite 613 – The Suite Life of Zack and Cody
The Suite Life of Zack and Cody follows the title twins (Dylan and Cole Sprouse) and their adventures living in a hotel. In this episode, the twins learn about a supposed ghost in one of the hotel rooms. Cody is scared, but Zack enjoys scaring him and bets him to spend the night in the room with Maddie, London, and Esteban. From Esteban leading the session and talking in the ghost's voice, to everyone being "taken" by the ghost to prank Zack, it's a scary and funny episode, with the final revelation that the ghost might be real after all. It's one of the show's best episodes – with MTV News reporting that it helped the show explode in popularity – and it's a great Halloween watch.