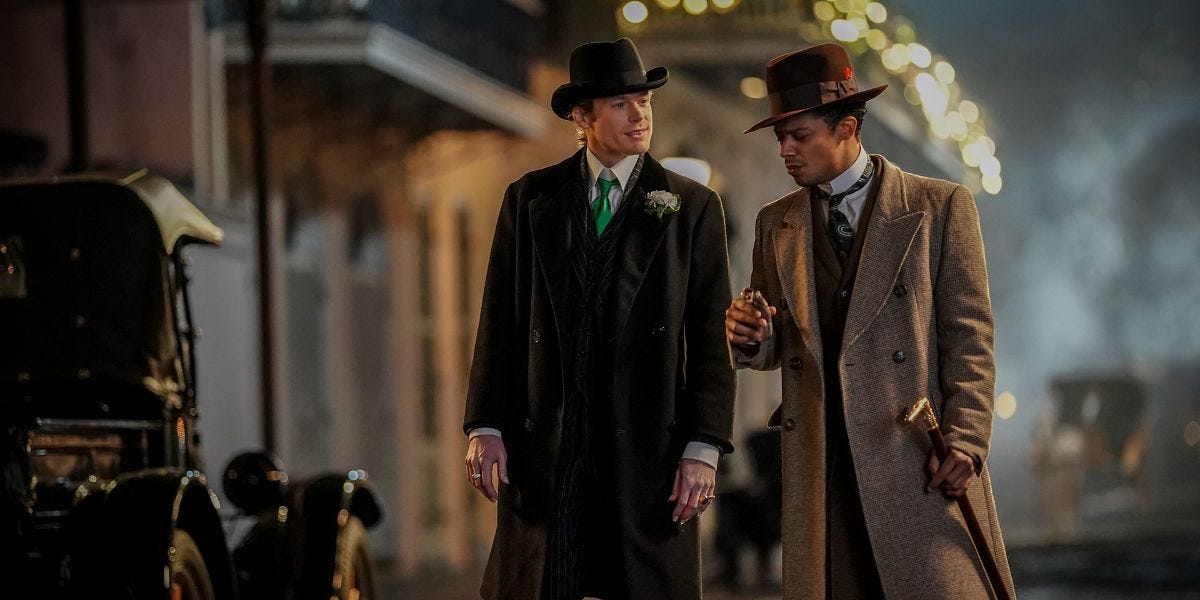 Before Edward Cullen and the Salvatore brothers graced our screens, we had Tom Cruise in a blonde wig and a pair of fangs. We're talking about the 1994 movie Interview With the Vampire, of course, and this year, the story has been rebooted. Tea new AMC serieswhich was renewed for a second season before the first episode premieredstars Sam Reid as Lestat de Lioncourt (previously played by Tom), Jacob Anderson as Louis de Pointe du Lac (previously played by Brad Pitt), and Bailey Bass as Claudia (previously played by a young Kirsten Dunst).
The story—which also spans an entire series of novels—follows a trio of vampires in the 18th century, oscillating in time from their origins to present day, when Louis tells his story to a reporter (hence the title, Interview With the Vampire). Anne Rice, who passed away in December 2021, sold more than 100 million copies of her novels and is remembered as one of the best-selling authors of all time. Her work inspired a cultlike following of dedicated fans, which makes the reboot's positive reception even more encouraging.
While the new show and the 1994 film technically share the same source material, the show has much more to work with. Rice wrote nine additional novels following the release of the 1994 film adaptation, and the new AMC show pulls from the entire pool of her work.
During a summer Television Critics Association press panel, Sam (aka the new Lestat) spoke about the differences playing out onscreen. "As a fan of the books, I was excited about the fact that it was going to be made at all, and what we do in this adaptation, in this version of Interview With the Vampire, is look at an entire series of books because when that film came out, she was still writing them, so they didn't have perspective of the entire work.…We are actually looking at all of her books. So it is a different feeling than what that 1994 film did."
Another difference you'll see onscreen is a more explicit conversation about race. The character of Louis—turned vampy by Lestat in the 18th century—was a wealthy white plantation owner before becoming undead. The 1994 film doesn't really delve into that, but this new adaptation has no problem asking tough questions. In this version, Louis's identity is flipped: He is a Black man in the Jim Crow South, always made to feel "othered" by the wealthy white people around him.
We see a lot of reboots these days, and some are more celebrated than others, but this story was begging to be resurfaced and repolished. The show's first three episodes were released to wide acclaim, collecting an impressive 99 percent approval rating on Rotten Tomatoes and a wave of positive critical reviews. So far, the series is both elevating and celebrating the legacy of the 1994 film, which was met with Oscar nominations and Golden Globe awards.
The new series has seven episodes in store for us, with new installments airing at 10 pm ET on Sunday nights on AMC.
Watch the First Episode Here